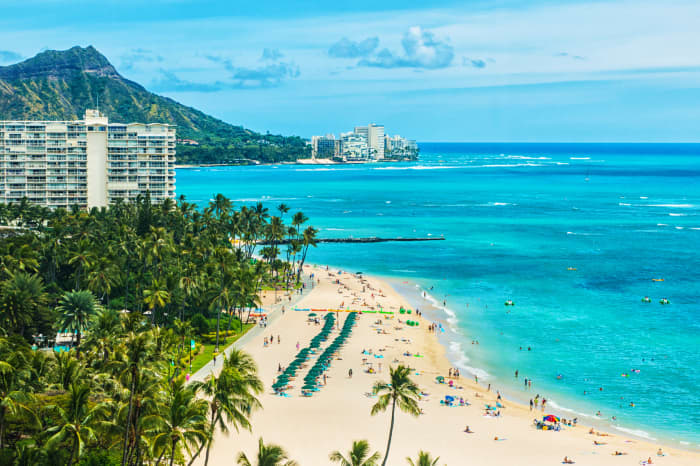 It certainly pays to own a home before you reach your golden years. About 80% of Americans age 60 and over are homeowners, with housing wealth accounting for approximately 48% of their median net worth, according to a February 2023 paper published by Vanguard. And tapping into your home equity can provide a lucrative path to retirement (see the best HELOC rates you may get now here) — especially if you move to a less expensive place. About 60% of migrating retirees are moving to less pricey places — and typically extracting $100,000 of home equity in the process. 
Where you bought your home matters, a lot. Retirees moving out of their primary residence on the West Coast (Washington, Oregon and California) are most likely to be able to maximize the home equity they built up, and then retire and relocate. Similarly, retirees in the Northeast (New York, Massachusetts, New Jersey, Maryland and Washington DC) are also well positioned to come out of a home sale with cash in hand, the Vanguard report reveals. 
This data showcases that if you're planning to depend on home equity to help fund retirement, where you live now matters. Indeed, selling a home and living off the profits "is very viable for coastal dwellers moving inland to the Midwest," while it might not be for others, says certified financial planner Derieck Hodges.
| | |
| --- | --- |
| Most lucrative states for older Americans to sell their home in | Average ratio of home equity extracted and the destination house price |
| Washington D.C. | 174% |
| Hawaii | 116% |
| California | 77% |
| Colorado  | 73% |
| Massachusetts | 59% |
| Washington | 41% |
| New Jersey | 33% |
| New York | 33% |
| Oregon | 33% |
| Maryland | 30% |
Hodges adds: "Since the pandemic, rents have escalated and values of homes to buy have also increased so many homeowners end up downsizing their space but not radically saving that much money after paying for relocation expenses and closing costs on the sale of their home."
| | |
| --- | --- |
| Least lucrative states for older Americans to sell their home in | Average ratio of home equity extracted and the destination house price |
| West Virginia | -48% |
| Oklahoma | -36% |
| North Dakota  | -33% |
| South Dakota | -33% |
| Mississippi | -32% |
| Arkansas | -31% |
| Iowa | -29% |
| Alabama | -27% |
| Kentucky | -26% |
| Nebraska | -25% |
How to get the maximum value out of your home when you sell
"One of the best things a retiree can do to get the maximum value out of their home is to be sure it's in good shape when they go to sell it," says Jacob Channel, senior economist at LendingTree. For those who have lived in their home for a long time without making any significant changes, it's not uncommon to find yourself in a situation where your home seems dated or rundown. "You don't need to gut renovate your home, but modernizing your kitchen, replacing a worn down carpet in a high traffic part of the home or even painting and fixing creaky doors can make a big difference to prospective buyers and not only help you sell your home faster, but also receive a bigger offer," says Channel. 
Furthermore, Holden Lewis, home and mortgage expert at NerdWallet, says when you have lived in a house for many years, you stop noticing the things that would bother a buyer, like scuffs on baseboards or toilet handles that must be jiggled. "Ask a neutral person … to walk through the home and identify all the little things that might turn off buyers. Make sure the house's major systems are functioning and aren't in need of replacement. This includes plumbing, the roof, heating and air conditioning, the electrical system and the water heater," says Lewis.
For her part, Clare Trapasso, executive news editor at Realtor.com, says this year's homebuyers are really looking for move-in ready homes with curb appeal that are well located. "Those homes are still selling with multiple offers, sometimes over the asking price, depending on the market," says Trapasso.
Essentially, it's important for sellers to put themselves in a buyer's shoes. "When buyers walk through a home, their first inclination is to begin discounting the home for items that are in need of repair or upgrade. I'm not a believer in replacing items in order to sell it to someone who is ultimately going to replace it to their own taste, but I do advise my clients to make sure items that are easily noticeable to a buyer's eye are fresh and in working order," says real estate agent Morgan Trent of the Aaron Kirman Group at Christie's International Real Estate.
Before selling their home, experts say retirees should pay attention to the real estate market up to 24 to 36 months prior to pulling the trigger. "If the market has taught us all one thing over the past couple years, it's that it can be very volatile and the value of many Americans' most valuable asset can severely fluctuate in a matter of months. While there are a number of variables that make up the overall demand in any one housing market, it's imperative that sellers do their work and understand the market in which they are located," says Trent. 
If you're set on selling, Lewis says it's imperative to consult tax experts to gain access to the accumulated equity because capital gains taxes could take a bite out of the sale. "A reverse mortgage is a way to extract equity without selling the home and without making monthly payments. Reverse mortgages require financial counseling and shouldn't be entered into lightly," says Lewis.
Other options for retirees who want to tap into their home equity include applying for home equity loans or home equity lines of credit (HELOCs), assuming they have good credit scores and aren't debt burdened. "Before you rush into one of these, be sure you understand what you're getting into. Defaulting on a home equity loan can result in losing your home and a reverse mortgage could make it extremely difficult for you to pass your house down to your children or other members of your family," says Channel. See the best HELOC rates you can get here.
The advice, recommendations or rankings expressed in this article are those of MarketWatch Picks, and have not been reviewed or endorsed by our commercial partners.