Pregnancy is one of the most difficult stages for mothers, health risks and complications may occur during the months of pregnancy without warning, and with the emergence of new variables arising from the Corona virus, the matter has become more difficult in light of the continuation of this pandemic, whose waves have been renewed for two years until the present time. .
During this report, we monitor the most prominent tips that every mother who is expecting her child must take into account to protect against infection with the Corona virus, quoting experts from the American Centers for Disease Control and Prevention (CDC).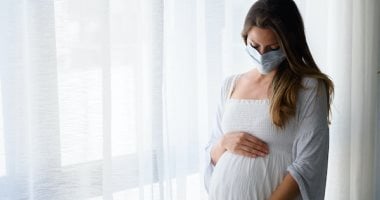 Here are the most important tips to avoid infection with the virus during pregnancy:
1. Make sure to wash hands for 20 seconds constantly and avoid touching the nose.
2. Avoid being in crowded places and observe social distancing guidelines.
3. Increase your intake of water and caffeine-free fluids by at least 8 cups per day.
4. Commitment to wearing masks and replacing them every period to prevent transmission of infection
5. Be sure to clean and disinfect your mobile phone, which carries a large number of infection-causing microbes.
6. Eating a lot of rich vegetables and fruits with vitamin C Which increases the strength of your immunity during pregnancy
7. Get recommended vaccinations during pregnancy, which can help protect you and your baby, such as the flu shot.
8. Contact your doctor if you have any concerns about your pregnancy, or if symptoms of HIV infection appear.
9. The necessity of obtaining the recommended corona vaccinations for pregnant women, in order to protect you from infection.
10. Avoid eating prepared foods from outside and replace them with foods made inside your home, for fear of transmission of infection.