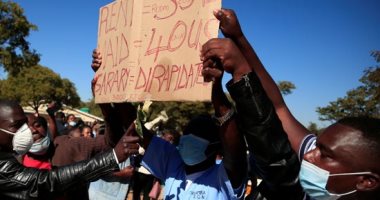 At least 15 people have died in the past weeks at the Beitbridge crossing on the South African border with Zimbabwe, after those wanting to cross the border lined up in long lines to get tested for Corona, the ENCA news channel reported.
The Ministries of Health and the Interior and Local Police in South Africa have not yet responded, to confirm the number of deaths, which local media have attributed to stress and ill health in the absence of the necessary facilities while waiting to cross the border, which sometimes extends for days.
Pictures and videos circulated on news channels and social media revealed lines of cars and trucks that stretched for kilometers on the narrow road leading to the Bitbridge crossing, the main crossing point between the two countries and which is more crowded than usual at this time of year due to the season of return of migrants to Zimbabwe.
South Africa, which is home to 1.5 million migrants from Zimbabwe, is facing a second wave of the Covid-19 pandemic.