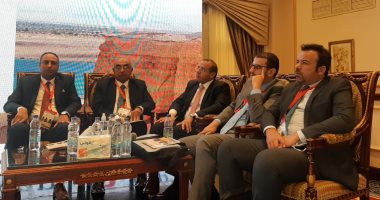 Sameh Ramadan, Head of the Hepatology, Gastroenterology and Endoscopy Department at Fayoum General Hospital, revealed during the department's conference today, held in Fayoum Governorate, that devices for upper and lower gastrointestinal endoscopy were purchased with funding from the Ministry of Health and Population at a cost of 20 million pounds, to provide a distinguished service to the patient in the north of the country. Upper Egypt.
He said: We are working to provide the latest equipment in the Liver and Gastroenterology Department at Fayoum General Hospital to serve the people of Fayoum, Beni Suef and Minya. C virus, and Fayoum became free of C virus and schistosomiasis, after these two diseases were spreading there.
He added that the biggest dream is that we establish a large institute for the liver, digestive system and tumors, adding that the treatment of liver diseases is provided to the patient so that the patient does not have to go outside the governorate, explaining that Fayoum was one of the highest rates of spread of schistosomiasis and hepatitis C patients, and the 100 Million Seha initiative came to get rid of After years of this initiative, we are working to follow up on patients with cirrhosis of the liver, and statistics confirmed that we are the most conservative that has been able to achieve a strict regime, to follow up on the largest number of patients who have been cured of Hepatitis C in Fayoum, where thousands of patients are treated annually.
For her part, Dr. Mervat Abdel Azim, a member of the House of Representatives in the Health Committee, said that we were able to provide the Liver and Gastrointestinal Endoscopy Department with the latest equipment with funding from the Ministry of Health and Population, and a high-level endoscopy unit was opened, and it provides an advanced service for patients in northern Upper Egypt, at a cost of 20 million pounds for endoscopy. The upper and lower digestive system and the bile duct endoscopy unit, explaining that we sought to obtain this support from the Ministry of Health to support our people in northern Upper Egypt.
She explained that the Fayoum General Hospital is equipped at the highest level to provide service to 4 million citizens, and it is the main pillar for providing free treatment services to citizens.