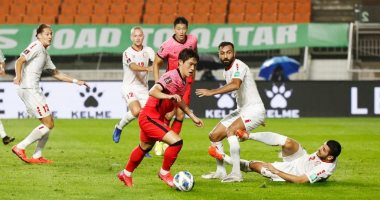 South Korea snatched the top spot in Group A, temporarily, by winning a clean goal against its guest, Lebanon, in the match that brought them together today in the second round of the Asian qualifying round for the World Cup "Qatar 2022".
Kwon Chang-hoon scored the game's only goal for the hosts, South Korea, in the 60th minute, of the match.
With this result, the Korean team raised its score to 4 points at the top of the group with a win and a draw, and in the runner-up, the Iran team comes with 3 points, while Lebanon is in the fifth and penultimate place with one point.
Lebanon achieved a positive result in the first round against the Emirates outside its stadium, with a draw, but it lost against its Korean host today and could not complete its awakening..
Korea tied the first confrontation with Iraq, and succeeded in winning the second confrontation on its soil.
The first group includes 4 Arab teams: the UAE, Lebanon, Syria and Iraq, in addition to South Korea and Iran. In front of the second group, it includes Saudi Arabia and the Sultanate of Oman, in addition to Japan, China, Vietnam and Australia..