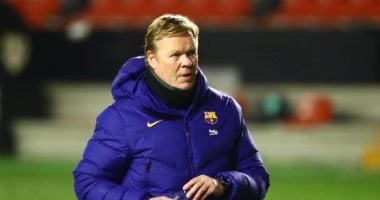 Barcelona president Joan Laporta gave Dutch coach Ronald Koeman one last chance to see a new Barca, after the humiliating defeat against Bayern Munich 0-3 in the first round of the group stage of the Champions League.
And according to the Catalan newspaper "Sport", Barcelona president Joan Laporta gave Barca coach Ronald Koeman a last chance during the next 3 La Liga matches, against Granada, Cadiz and Levante, respectively, to change the situation.
She added that if Barcelona falters during these matches, there will be an emergency meeting to decide the future of the Dutch coach inside the "Camp Nou".
On the other hand, the Spanish club Barcelona announced, in an official statement, the injury of the duo Jordi Alba and Pedri Gonzalez, after the Bayern Munich match that brought the two teams together yesterday evening, Tuesday, and ended with a 3-0 victory for the Bavarian in the first round of the group stage of the Champions League.
Barcelona issued an official statement, saying, "Jordi Alba suffers from an injury to the biceps femoris muscle in the right leg, and Pedri Gonzalez suffers from an injury to the quadriceps."
The Barcelona statement did not reveal the duration of the absence of the duo Pedri Gonzalez and Jordi Alba during the coming period, after they were injured against Bayern Munich.
The statement confirmed that Gerard Pique and Memphis Depay did not participate in Barcelona's group training, and the reasons for this were not mentioned.
Barcelona is at the bottom of the table of Group E in the Champions League, without a balance of points, while Bayern Munich topped the standings with 3 points, and behind Benfica and then Dynamo Kiev in second and third place with a point each.
It is worth noting that Barcelona's management renewed confidence in Dutch coach Ronald Koeman, despite Bayern Munich's triple in Champions League.