If you lose 50 to 100 hairs a day, don't worry, as scientists say this is completely normal, as there are about 100,000 hairs on the scalp of a healthy person, so small numbers are not necessarily a bad thing, however, the problem appears When your hair stops growing or begins to fall out in large numbers, here you should visit a dermatologist to find out the cause of your hair loss. In this report, we learn about the five common causes of hair loss, according to the "swaay" website.
5 common causes of hair loss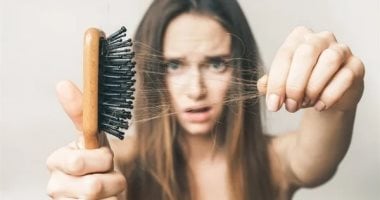 1. Alopecia Areata

In alopecia areata, the immune system mistakenly assumes that the hair follicles are enemies that attack the body, and this leads to the shrinkage of the follicles and thus hair loss occurs.
Researchers believe that genes may be responsible for triggering the disease. The main symptom of alopecia is hair loss in small patches. You may also experience hair loss from the eyebrows, beard or any other part of the body.
2. Hormonal changes

Estrogen and progesterone are the two hormones responsible for hair growth, and during hormonal imbalance, the level of these hormones decreases, which slows down hair growth, on the other hand, this decrease leads to the formation of androgens.
Androgens work against hair growth by shrinking hair follicles or causing facial hair to grow.
In general, hair loss occurs due to hormonal changes in women who are taking birth control pills or during menopause.
To prevent excessive hair loss, try following these guidelines:
Choose a low-fat diet
– Reduce stress levels
-Keep yourself hydrated
Exercise daily.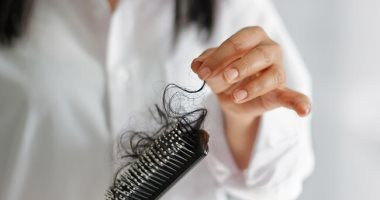 3. Thyroid disease

The result of thyroid disease is either an increase or a decrease in the production of hormones. This disturbance in the hormonal level may lead to weight gain, weight loss or nervousness. Besides, the hormones T3 And T4 Responsible for hair growth at the root level, when disruption occurs, these hormones fail to work actively in the growth of new hair.
Furthermore, medications prescribed to treat thyroid may also lead to hair loss. However, the condition is temporary and improves over time.
To reduce hair loss, try eating:
More iron
More Nutrients
Anti-inflammatory food
– essential herbs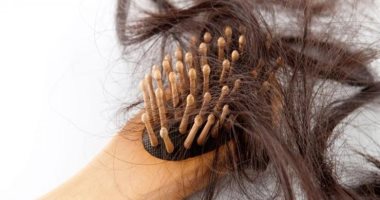 4. Stress

Studies show that physical and mental stress can lead to hair loss if you have had surgery or experienced severe blood loss. However, the good news is that stress-induced hair loss is not a permanent condition. You can restore hair volume by exercising. And take nutrition and other supplements to combat anxiety. Taking over-the-counter treatments such as minoxidil or corticosteroids can also help with hair growth.
5. Ringworm infection

Ringworm is a fungal infection of the scalp because it is a contagious disease, it can be transmitted from person to person if it comes in close contact. A common symptom of ringworm is itchy patches. These patches may then cause parts of the hair to break off, leaving behind bald patches.
A sore scalp and fever are other symptoms of ringworm.