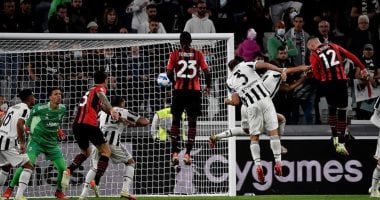 The Juventus team drew against Milan with a goal each, in the top of the fourth round of the Italian League, which was held yesterday evening, Sunday, at the "Allianz Stadium".
Juventus vs Milan

Milan was close to losing against Juventus, but Croatian star Ante Rebic scored the equalizer in the 76th minute to snatch a point for the Rossoneri of the match.
Juventus

And the official website of the Milan team monitored a number of distinguished figures about the Italian League summit, as follows:
Milan have not lost in two consecutive Serie A matches against Juventus for the first time since 2012.
Milan managed for the first time since February 1996 (the equalizer after Conte's goal) to avoid a defeat away to Juventus in the Italian Serie A after being late.
Juventus

– No team has scored more goals than Milan with its header against Juventus at Allianz Stadium (four: Antonelli, Bonucci, Tomori and Rebic.
Ante Rebic is the first AC Milan player in the three-point era to score in three consecutive games against Juventus.
The Croatian striker's two favorite victims in Serie A are Torino: he scored 5 goals against Granata and three against the Bianconeri..
It is worth noting that Milan occupies the second place in the Italian league standings, with 10 points, and a goal difference from leaders Inter Milan, while Juventus is in the 18th place with two points.