Every child needs to feel love, safety and attention from his family, so that he grows up in a way that he can deal with others kindly, whether with his friends or colleagues at school, and to achieve this, we review in this report, tips to meet the emotional needs of the child, according to the caregivers of the newspaper. British Metro.
Have fun with the baby
Parents should devote time during the day to sit with their child without distracting them, whether television or a mobile phone, such as playing with children, which plays an important role in the development of children, as it helps to educate them and add a character of fun and laughter, or reading stories to them.
In the case if the children are older, it is preferable to sit with them to talk, take a walk with them, prepare food together, or play sports, and this is one of the ways that helps to strengthen the communication between parents and children.
Show your love for them
Research has shown that there is a link between feeling affection in childhood and health and happiness in the future, as children who felt love from their parents when they were young became less anxious and more resilient when they reached adulthood, and this may be due to the release of the hormone oxytocin, a chemical in the brain that is released at times. In which a person feels loved and connected, it is necessary for parents to tell their children that they love them and are keen to embrace them, as this helps relieve children's feelings of stress and anxiety and increases their sense of safety.
Show interest in children's favorite things
When parents see that their child is starting to care or love something, they should ask him questions about what he is doing and interact with him by sharing it, such as sharing coloring with him in case he is drawing something.
praise them
Praising the child when he does something positive helps boost his self-confidence and encourage him to do more positive actions.
listen to him
Parents should listen to their children well, and do not reduce their fears until they encourage them to tell them everything that happens to them during their day, outside the home, which helps the children to feel calm.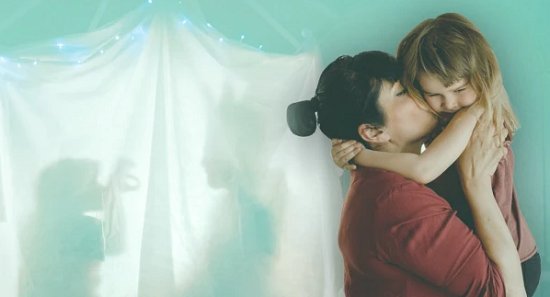 A mother with her baby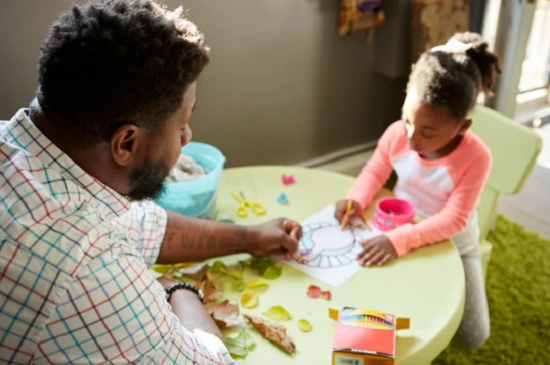 father with daughter