Osteoporosis is one of the chronic diseases that some people suffer from, especially the elderly, with age. It is a bone disease that occurs when the body loses a lot of bones, according to the website healthbeat Osteoporosis can affect both men and women, but women are more likely to develop it. Early menopause (before age 45), low estrogen levels, that occur during menopause can contribute to bone loss.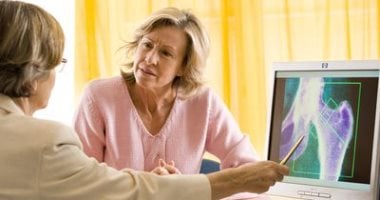 There are various factors that increase the risk of osteoporosis, including:
1: Smoking reduces bone mass.
2: Excessive alcohol intake.
3: Genetics, family history of osteoporosis is one of the contributing causes of osteoporosis.
4: Treating cancer. Chemotherapy and radiotherapy may increase a person's risk of developing osteoporosis.
There are 5 things you can do to protect your bones and prevent them from brittleness:
1: Calcium intake is one of the best lines of defense to help maintain strong bones. Dairy products, such as milk, are the most common sources of calcium. One cup can provide between 27 and 35 percent of your recommended daily intake, but milk is not your only option. Other calcium-rich foods include cheese, yogurt, broccoli, kale, watercress, figs, oranges, canned salmon, white beans, tofu, and almonds.
2: Get an extra dose of vitamin D. Vitamin D helps your body metabolize calcium and is as important as calcium for bone health. Vitamin D can be found in seafood such as salmon or herring and egg yolks, and you can also get vitamin D through a daily dose of Sunlight, just don't overdo it, because excessive exposure to sunlight can damage your skin.
3: the right exercises
If you have osteoporosis, you don't need to steer clear of the gym. Proper weight-bearing and muscle-strengthening exercises can help build bone strength Walking is one of the best weight-bearing exercises to maintain bone quality Flexibility and basic exercises can help reduce the risk of falls by Promote good balance.
4: Avoid smoking and excessive alcohol consumption
Smoking reduces bone mass. Alcohol can interfere with the balance of calcium and vitamin D, which are two essential nutrients for bone health. Additionally, heavy drinking in adolescence and young adulthood can greatly increase the risk of osteoporosis later in life..
5: Take medicine when needed
Certain medications may be used to prevent further loss of bone mass or to stimulate bone growth, and your health care provider can help evaluate whether it is necessary to start taking medications..