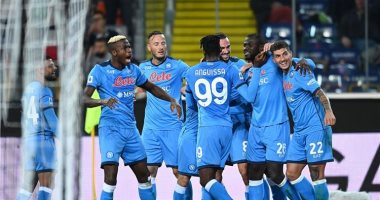 Today, Sunday, the matches of the sixth round of the Italian Football League will be completed with 6 exciting confrontations, as Napoli will try to secure the top spot in Calcicho when it hosts Cagliari, while all eyes will turn to the Italian derby between Lazio and its host Rome in the Olympics.
The competitions begin today, Sunday, at 12.30 pm, when Juventus hosts its Sampdoria counterpart at its Allianz Stadium, in the sixth round of the Italian League for the current season 2021-2022..
Juventus occupies twelfth place in the Italian league table with 5 points, before facing Sampdoria, who is thirteenth, with the same number of points..
While Napoli seeks to maintain the lead in the Italian league and the full mark to beat its guest Cagliari, when it hosts it at Diego Armando Maradona Stadium at 8.45 pm today, Cairo time.
Napoli is at the top of the Italian league with 15 points collected from 5 victories and the owner of the full mark, while Cagliari is in the 19th and penultimate place with two points from two draws and three defeats.
At the top of the round matches and the Italian derby, the "Olympico" stadium will host the Lazio vs Roma match in the sixth round of the Calcio competition..
The Olympic Stadium hosts 20,000 fans to watch the derby between Lazio and Rome, as it will witness a 50% audience, equivalent to 20,000 fans, divided equally between the Roma and Lazio fans..
A team occupies fourth place in the Italian league table with 13 points, while Lazio is in seventh place with 8 points.
In 3 other matches, Sassuolo will host its rival Salernitana at Mapei Stadium at 3:00 pm. The hosts are 14th with 4 points, while Salernitana is in the last place with one point.
Udinese will also host its counterpart Fiorentina at the Friuli Stadium at 3:00 pm, where Udinese is in 10th place with 7 points, while Fiorentina is sixth with 9 points.
In the last confrontation, Empoli will host its counterpart Bologna at Carlo Castellani Stadium at 3 pm. Empoli occupies 11th place with 6 points, while Bologna is 8th with 8 points.