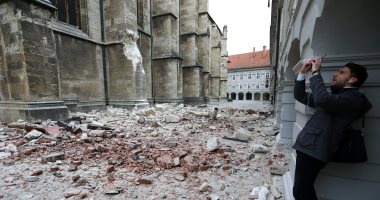 A strong earthquake measuring 6.3 on the Richter scale on Tuesday jolted central Croatia; This resulted in the killing of a child, causing severe damage to homes and buildings in a town southeast of the capital.
The Euro-Mediterranean Seismological Center stated – according to the American (ABC News) network – that the epicenter was located 46 kilometers southeast of the capital Zagreb .. While initial reports stated that the earthquake caused extensive damage, collapsed roofs and facades of buildings and even collapsed some entire buildings. .
For its part, the Croatian State Radio and Television Corporation (HRT) reported that a child was killed in the town of "Petringa", southeast of the capital, and most affected by the earthquake. Without giving more details about the child's age.
"My town has been completely destroyed, we have dead children," the mayor of Petringa said in a statement broadcast by HRT. "This is like Hiroshima, half of the city is no longer there."
Croatian Prime Minister Andrej Plenkovic and other ministers arrived in Petringa in the aftermath of the earthquake.
It is noteworthy that the same area suffered an earthquake on Monday with a magnitude of 5.2 on the Richter scale and some small aftershocks that were felt today.