The bride, 29-year-old Chelsea Hill, who suffers from paralysis from the waist to her feet, wanted to wear a wedding dress to match whether she was sitting or standing, as she planned to walk the aisle with leg braces as well as use a wheelchair throughout her wedding.
Hill experimented with 35 to 40 dresses before finding the right one, which was designed byGalia LahavWith a mermaid skirt, it was designed in the shape of a heart with a deep shaped neck opening. VRemovable off-the-shoulder sleeves, a mermaid skirt made of tulle, and a bodice covered in delicate lace and crystal embellishments, according to the site.insider".
Hill modified it by making the skirt removable, so that she could remove it when standing or sitting, and of this she said, "If the dress fits me in my seat, then if I stand, it will be too cumbersome."
Hill also wore tulle, off-the-shoulder sleeves that she also removed, which she took off when dancing with her husband.
Hill's dress had an open back with custom sleeves, and with lace details framing the open back, and the bride used a wheelchair and supports to facilitate her movement in the hall.
Bride Chelsea Hill, 29, and her husband Bloomfield, 35, remember their first meeting at an assistive technology event in 2014. Bloomfield manufactures wheelchairs, and Hill is CEO and founder Rollettes , a wheelchair-dancing team in Los Angeles, after Hill has been paralyzed from the waist down since 2010.
Hill recalled the mutual admiring glances with Bloomfield, during the event, but they did not actually talk to each other for another six months when they met at another event, and then dated until Bloomfield proposed to marry her in February 2020, and they had their wedding on September 24, 2021..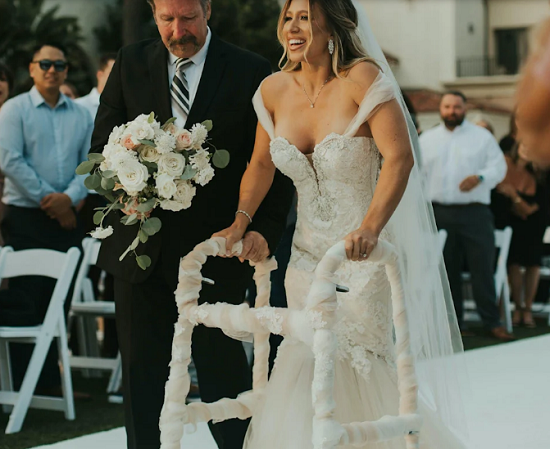 The bride at the wedding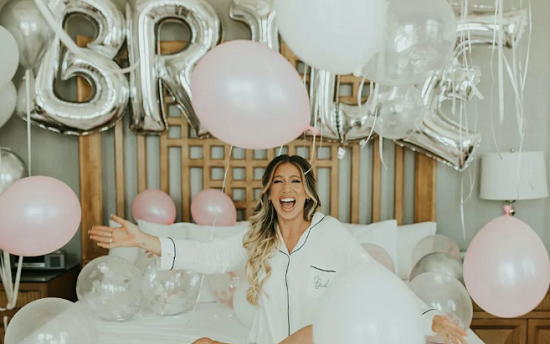 the bride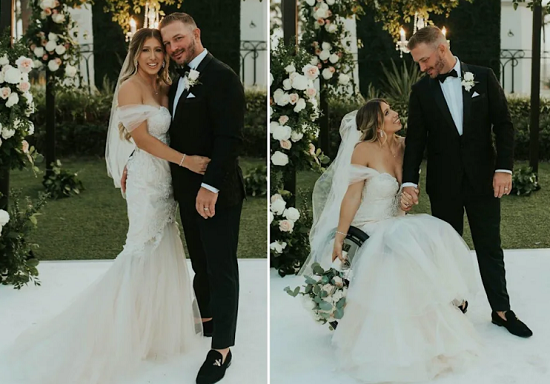 the newlyweds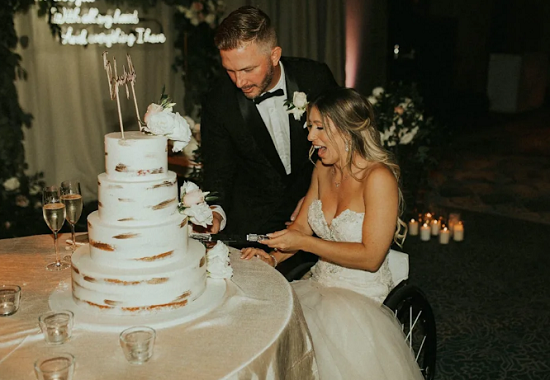 Wedding Ceremony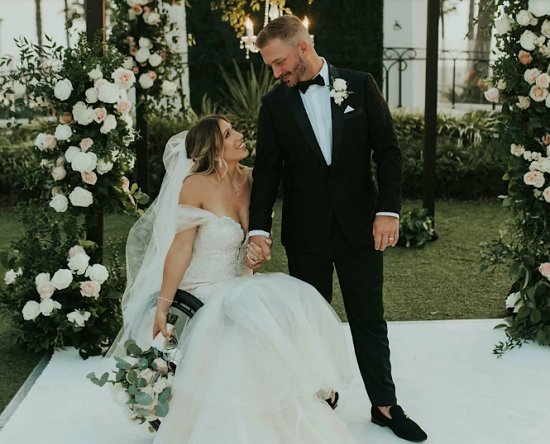 Another picture of the newlyweds