Alex and his wife, Amy Lindsey, were only expected to have one child when she was 12 weeks pregnant, but when they conducted medical tests, the husband discovered that his wife was pregnant with three children, according to the British newspaper "Metro" website.
The couple have two children, so they were shocked when they found out that the wife was pregnant with three children.
31-year-old Amy said: "I was on the bed and Alex said he was seeing a lot of fetal movement on the screen on the scan. The ultrasound specialist asked him if there was a history of twins in the family, and he revealed there were two babies, but The ultrasound specialist told us that I am pregnant with three children.
"We were worried at first because we thought she noticed something wrong with one of the kids, but that's when she revealed there was another kid there… we were so happy," she added.
The couple had planned for this to be their last child, since they already had two children, they were worried about raising three more.
Amy added, "I just thought, 'I only have two arms, how am I going to hold them and feed them?'"
Amy gave birth to her three sons on July 9 at the Royal Sunderland Hospital, and named them Abel, Asher and Azariah, and they are all identical.
The report indicated that the odds of having identical triplets ranged from one in 60,000 to one in 200 million, which means that the couple was very lucky.
Although there is always a risk of having triplets, they are all healthy and of a good weight. Abel weighed 6 pounds, Asher 5 pounds, and Azariah 5 pounds.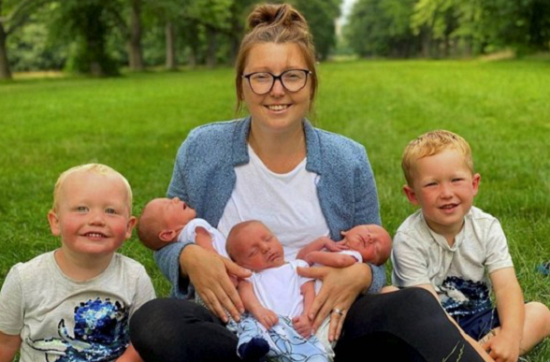 mother with her children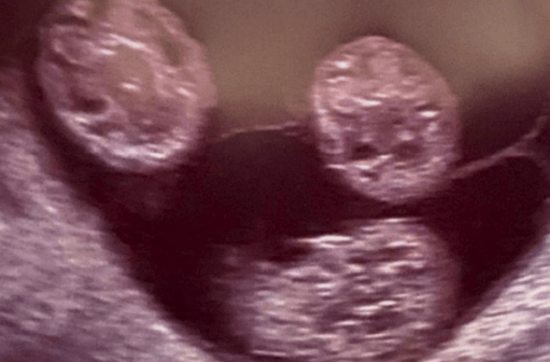 Twins in medical examination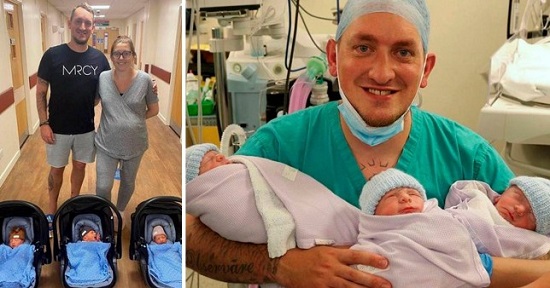 father with his children