Claire Membury, who lives in Shrewsbury, owns 12 young dogs so she spent more than £23,000 in four years, and Claire bought her first dog a few years ago, and since then she has fallen in love with this breed, according to the British newspaper "Metro" website.
The 47-year-old groomer has moved her bedroom with her husband downstairs, to be closer to her furry friends – who now sleep regularly in their 8-foot bed..
In addition to the 12 dachshunds named Chanel, Darla, Nico, Luna, Scotty, Donna, Scarlett, Forrest, Lemmy, Echo, Lando, and Koa – Claire owns two horses and a chicken.
The nanny allocated a large wardrobe for dogs, in which there are clothes from famous brands such as "Gucci", where she said: Their wardrobe is twice my size, if not larger. I spent hundreds, if not thousands on their clothes.".
Inside the dog closet are shoes, raincoats, hats, warm jackets and sunglasses.
The pampered dogs also share two orthopedic beds, each costing £500, and are on a raw diet, with Claire saying: 'They have everything from chicken feet and rabbit ears to fruits and vegetables like celery and lots of pills and vitamins…I'm trying to set aside 25 pounds. £1 a week for all their food, and I buy a lot of it in bulk…they eat better than me."
She added, "I never take them out on picnics because I feel like people are going to think I'm a little crazy. Dachshunds are just unbelievably perfect dogs."
The dog groomer fears something will happen to them or they will be stolen. "I hate anything happening to them and sometimes I worry about dogs being stolen. I'd rather they steal my husband," she said.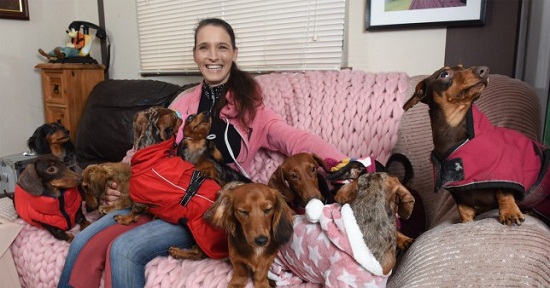 lady with her dogs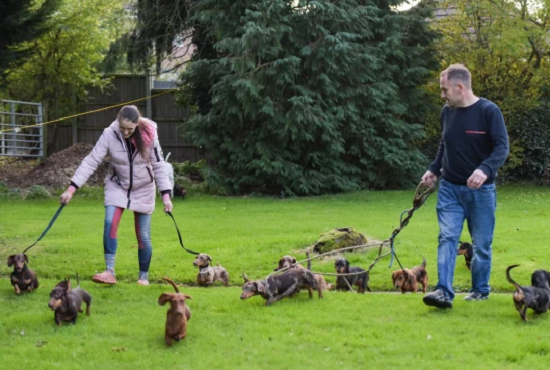 Claire with her dogs