British real estate agent Alice Thompson received nearly 185,000 pounds ($254,000) in compensation from her ex-boss after the company rejected her request for fewer hours to care for her newborn, prompting her to quit. .
The United Kingdom's Employment Tribunal has upheld Alice Thompson's claim against property agent "Manors" in London, CNBC reported.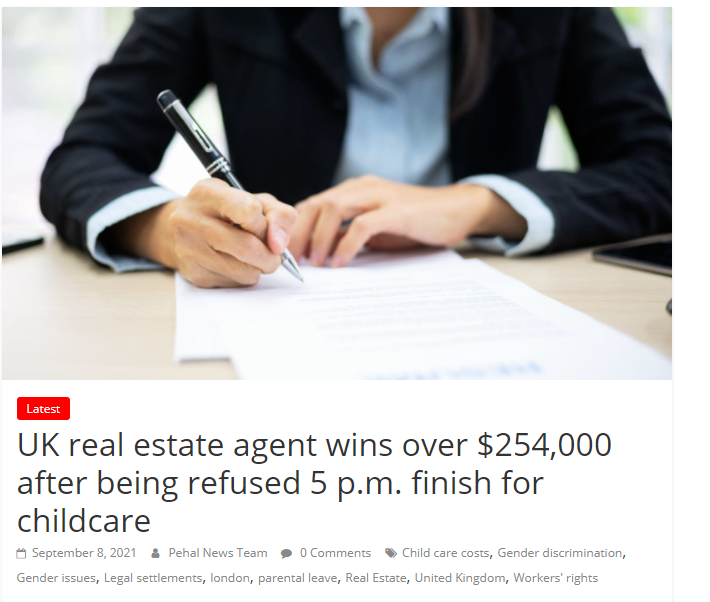 The news is from a foreign source
Alice Thompson looked forward to returning to work after maternity leave, and when asked if she could finish work an hour earlier at 5pm and work four days a week, instead of five, to care for her child, she was not accepted and took her legal stand.
Ms Thompson resigned in December 2019 after her boss rejected the request, according to the Labor Court of August 24.
In the end, the Labor Court ordered the estate agent, Manors, to pay Thompson £184,961 for indirect sex discrimination.
An employee receives compensation
The court said the amount included interest, past and future loss of income and pension contributions, plus £13,500 for 'injury to the emotions', with an additional amount to cover any income tax on the payments.
Alice Thompson commented on the ruling, saying: "It was a long and stressful journey and now I am happy to have this matter closed and proud of the amount of compensation awarded because the company's approach was 'draining' each emotionally and financially.
"I've put my heart and soul into a real estate agency job for over a decade in London, which is no feat because it's a completely male-dominated environment to work in, and I thought how should mothers have jobs and families? It's 2021, not 1971," Thompson said.