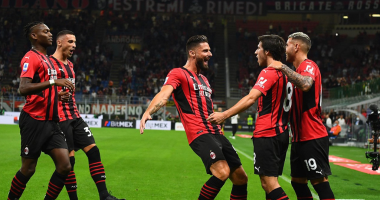 The Italian Milan will play a fiery confrontation against its guest Lazio, in the confrontation scheduled to take place at six in the evening, Sunday, at the "San Siro" stadium, the stronghold of the Rossoneri, in the third round of the Italian league competition.
Milan enters the Lazio match, which is in fourth place in the Italian league table with 6 points before the start of the matches of this round, with a goal difference only from both Lazio, the leaders, Inter Milan, the runners-up, and Rome, the third place, who have the same balance of points.
Milan won the first two consecutive matches of the Italian League, for the first time since the 2002-2003 season, 2003-2004, under the leadership of Italian coach Carlo Ancelotti.
Milan is preparing for a strong confrontation against its guest, Lazio, and then Liverpool will meet the Egyptian star Mohamed Salah, next Wednesday evening, at Anfield, in the first round of the Champions League group stage for the current season 2021-2022.
And Milan announced, last Friday, that its French star, Olivier Giroud, had recovered from the Corona virus, which he was exposed to at the beginning of this September.
The Italian club's statement said: "AC Milan can confirm that the results of Oliver Giroud's test are negative for the Corona virus, and tomorrow the player will undergo a medical examination according to the protocols of the Italian government to return to practicing sports activities."
Giroud starred with Milan by scoring a double in the 4-1 victory over his guest team Cagliari, in the last round of the Calcio.
The Rossoneri star was absent from the list of the French national team during the last pause, during which the roosters played 3 matches in the qualifiers for the 2022 World Cup in Qatar.
Inter Milan will also be a heavy guest against Sampdoria, at 12:30 p.m., at the Luigi Ferraris Stadium, where the Nerazzurri are looking to continue their victories in the Italian League this season, while Sampdoria scored a single point from two matches to occupy the twelfth place in the table.