Beast YouTuber has created a realistic version of the well-known "squid game" of the popular South Korean series by inviting 456 random players to compete in a tournament that offers the winner a cash prize of $456,000.
The Squid Game revolves around a mysterious organization that recruits debt-ridden people to compete in a series of games for a chance to win a life-changing amount of money, and whoever kills loses in the competition, according to the British newspaper, The Independent.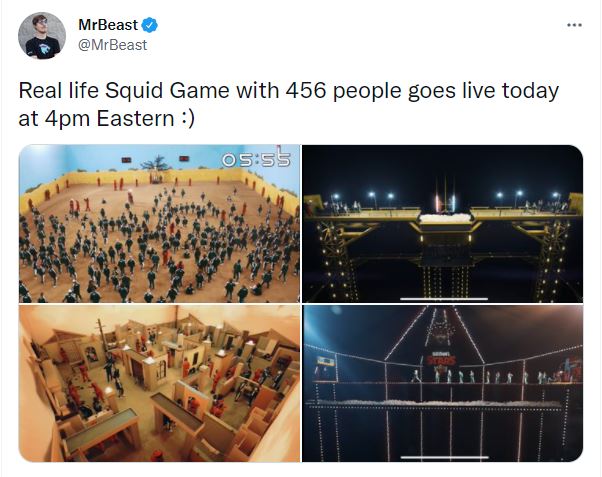 Mr. Best
The famous blogger, whose YouTube account has about 76.2 million subscribers, has documented the entire process of building gaming sites for the "Squid Game," and says in a video on his Twitter account: "I recreated every step of the squid game in real life."
In his version of the game, none of the players are harmed when they are eliminated. In fact, the disqualified players are given some cash for their efforts to participate, and matches start with the slogan "Red light…Green light," as in the series. warning."
Beast revealed that the video industry cost more than $3.5 million and was funded by the mobile game company Brawl Stars, and the entire amount was divided into two parts – $2 million for construction and production, and $1.5 million for cash prizes..
I now have every game from Squid Game built in real life 🙂 pic.twitter.com/kzeeuSF7Rv

— MrBeast (@MrBeast) November 13, 2021