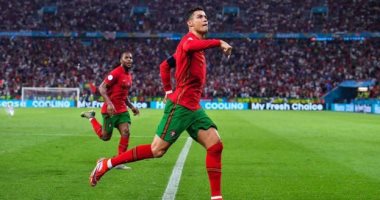 Portuguese star Cristiano Ronaldo, Manchester United player, seeks to set a new record in his football career, full of titles and achievements, whether with the clubs he played for or his country's national team.
Ronaldo needs to score a single goal with Portugal during the match against Ireland, on Wednesday evening, in order to be at the top of the list of players with the most international goals scored throughout history, which is currently shared by the former Iranian star Ali Daei, with 109 goals each.
Ronaldo leads his country against his Irish counterpart, in the confrontation scheduled to take place at 9:15 pm on Wednesday, as part of the fourth round of European qualifiers qualifying for the 2022 World Cup in Qatar.
Cristiano Ronaldo scored 109 goals with the Portugal national team during his participation in 178 matches in all tournaments in his international career, which began in 2003 so far, to equal Daei at the top of the list of top scorers throughout history.
And the former Iranian football legend Ali Daei, sent a congratulatory message earlier to the Portuguese star, Cristiano Ronaldo, after equalizing his record at the international level with the national teams, after he scored a double in the match that ended in a positive draw with France 2-2 in the framework of the third round. And the last of the group stage of the European Nations Cup "Euro 2020".
And on Daei, through his personal account on the "Instagram" website, he posted a picture of Cristiano Ronaldo attached to a message, saying: "Congratulations to Cristiano Ronaldo, who is now one goal away from breaking the record for international goals scored with the national team. I am honored that this wonderful achievement will go to Ronaldo, the champion The great football and the human being who inspires and influences lives around the world."
And Ronaldo re-published a congratulatory message "Daei" via his Instagram account, accompanied by a comment: "True champions are forever heroes. I am very proud to read such kind words from a great example like you, thank you to Daei."