A huge bear entered a store in California and caused great terror, but despite the tense atmosphere in the place, the bear was so calm that he sterilized his hands and face against the Corona virus before going out, and the bear quietly opened the door and entered his huge body from the door of the store, while I started The employee in the store screamed to try to get him out, but he kept checking the place, indifferent to all those screams.
According to the American newspaper "New York Post", the 44-year-old employee was heard screaming and saying, "Oh my God, he knows how to open the door." Fortunately, the girl managed to take cover inside the store and call the emergency department before entering the bear through the door of the store.
And the newspaper indicated that the curious bear took a look at the automated hand sanitizer, which fired two sprays on his face and body, which gave him immunity against Corona, so that the bear then disappeared before the arrival of help.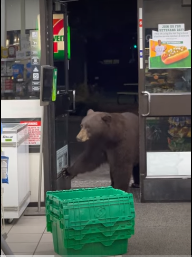 A bear enters a store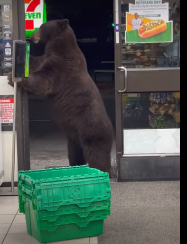 A bear sterilizes itself inside a store