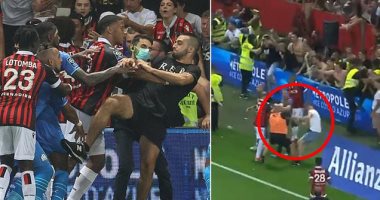 The French League sent a strong shock to the Olympique Marseille team, after the riots and violence that took place in its match against Nice, on August 22, in the third round of the Ligue 1 competition.
The crisis began when Nice fans threw empty bottles at Marseille players and Dimitri Payet, while he was taking a corner kick in the 75th minute of the match.
Payet responded to the Nice fans by throwing bottles again at them, along with a number of the team's players, led by Matteo Guendouzi. So, the fans went out on the pitch, clashed with the Marseille players and tried to attack them and coach Jorge Sampaoli.
The referee of the meeting had decided not to complete the match, but the technical staff of Olympique Marseille and the players refused to play in such an atmosphere, and accordingly it was considered that the latter withdrew and canceled the match.
And according to what was published by the Spanish newspaper "Marca", the French League decided to suspend Pablo Fernandez, a member of the technical staff of the Marseille team, for a year, after it was proven that he punched a Nice fan during the events in the "Allianz Riviera" stadium.
She added, that the Olympique Marseille employee was suspended indefinitely by the French League after his actions were filmed through cameras, and the fan was subsequently transferred to the hospital.
I continued, Pablo Fernandez had been facing a football ban for years but only got a one-year ban.
The French League had decided to replay Nice's confrontation with its guest, Marseille, and hold it at a neutral stadium without a public presence, after the unfortunate events that took place at the "Allianz Riviera" stadium, the stronghold of the Nice team, on August 22. In the third round of the French League.
The Disciplinary Committee also decided to deduct two points from Nice's balance (one of which is suspended), and Alvaro Gonzalez, player of Marseille, was suspended for two matches, and captain Dimitri Payet was suspended for one match.