Barcelona hopes to break its bad luck at the Camp Nou, when it faces Levante today, Sunday, in the seventh round of the Spanish League.
Barcelona news today
The Spanish newspaper, Mundo Deportivo, said that Barca is seeking to break its bad luck at the Camp Nou, as it has only won twice in the last 7 matches, and Barcelona tied in its last two matches against Granada, 1-1, and Kadesh without goals.
Barcelona vs Levante match date
Barcelona will host Levante at 4:15 pm today, Sunday, at the Camp Nou, the Catalan team's stronghold, as part of the seventh round of the La Liga competition this season.
The newspaper added that, with the exception of the victories against Real Sociedad with five goals against two goals, and Getafe with two goals against a goal in the first and third matches of this league, the Camp Nou appears from the past seven meetings in two victories, two draws and three defeats.
Barcelona news today
Barcelona's list for the Levante match witnessed the return of Ansu Fati to the list for the first time in more than several months, as Ansu Fati entered the list after receiving the necessary medical permits.
While Barca's six-man squad was suspended, Frenkie de Jong, Jordi Alba, Pedri, Dembele, Braithwaite and Aguero, due to injury.
Barcelona's squad list to face Levante is as follows: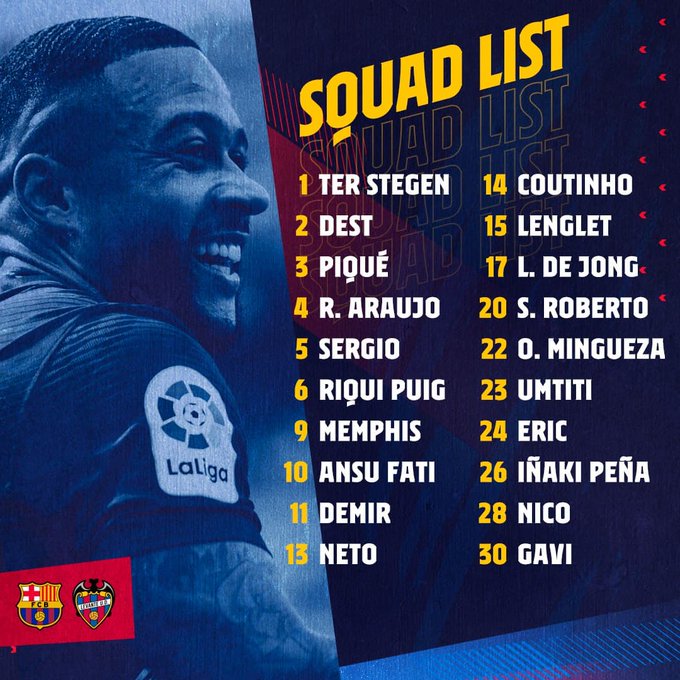 Barcelona news today
Dutch coach Ronald Koeman spoke about the return of Ansu Fati to participate with the Catalan team, after recovering from injury, saying in the press conference presented to the Levante match: "The return of Fati is very important for the team in the next stage, and it will not be essential in the match, as he participates for a period of time. only 15 minutes.
Regarding Barcelona President Laporta's statements about his future with the club, he said, "The president is the most important person in the club, he can speak and express his opinion on everything, but I only care about my work with the players to win, what is more than that I do not care."".
Barcelona news today
And about his sudden statement before the Cadiz match, he said: "Since that day, nothing has happened, I spoke with the president on the plane about the match, and nothing else.".
Koeman concluded his statements about his two-match ban and his absence against Levante, and said: "I want to be next to the team, especially in difficult moments. Talk in the game you are not satisfied with it, but you must learn from what happened to be calmer because I am human in the end".