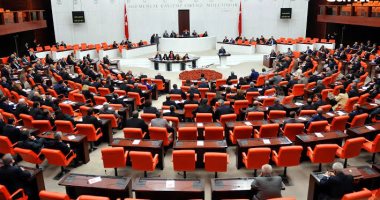 On Friday, the Turkish parliament began discussing a bill that increases oversight of non-governmental organizations, in a measure that activists describe as threatening to limit the freedom of civil society organizations.
The draft law allows the Minister of Interior to change members of organizations facing terrorism charges, and according to the draft law, the Ministry of Interior can file lawsuits to stop the activities of any organization.
The government says the bill, which includes "organizations and associations", aims to prevent non-profit organizations from financing terrorism and punish those who violate the law.
Civil society organizations, including Amnesty International and the League for Human Rights, say that the terrorism charges in Turkey are arbitrary, and that the draft law violates the presumption of innocence and punishes those against whom no final court rulings have been issued.
The bill was drafted by President Recep Tayyip Erdogan's Justice and Development Party, which has a majority in parliament with its ally, the MHP, which is likely to be approved.
Hundreds of thousands of people have been investigated for terrorist activities in the wake of the 2016 attempted army moves, and hundreds of organizations were also closed after the coup attempt.
Critics say that Erdogan and the AKP used the failed coup as an excuse to crush the opposition, but the government says the measures are necessary in light of the security risks to which Turkey is exposed, and under the bill, civil employees search organizations every year and can see any documents.
The bill allows regional governors or the Ministry of Interior to stop any online donation campaign to prevent terrorist financing and money laundering, and imposes fines of up to 200,000 Syrian pounds (US $ 26,200) on any organization found to be involved in illegal online donation campaigns, compared to current fines that do not Exceeding 700 liras.
Source link