The pilot of a small plane was able to fly it very quickly inside a tunnel in an exciting experiment, as he flew his plane at a speed of 240 kilometers, which increased the danger of the experiment, according to Sky News.
The length of the tunnel is about one and a half kilometers, and the experiment was carried out with a modified racing aircraft ( Zivko Edge 540The experiment lasted no more than 43 seconds, during which it cut two sections of the tunnel, and the small plane was flying at an altitude of just under a meter.
The report indicated that the Italian pilot, Dario Costa, sought, through this experience, which was described as "reckless", to break 5 records at once, and enter the Guinness Book of Records, and indeed he managed to achieve his goal.
Among these numbers, he achieved, flying inside the longest tunnel so far, the first plane to take off from inside a tunnel, and the first plane to cut two sections of the tunnel between them is a bridge..
And this experience required a great skill to keep the plane away from the ground when flying, so as not to hit the ground or the concrete sides, especially since the pilots are accustomed to flying in the heavens where there are no limits to them.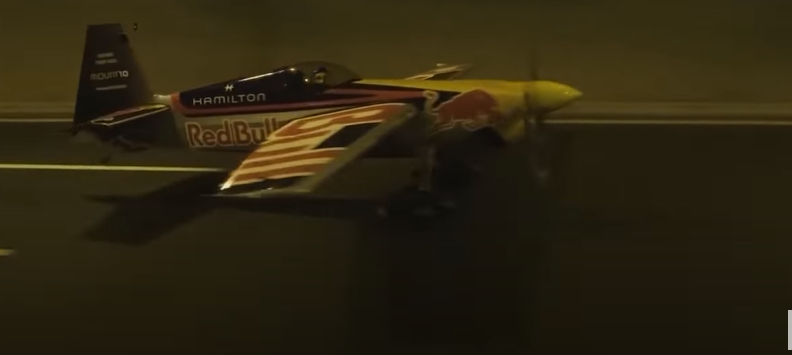 The plane inside the tunnel
In another context, a single-engine plane earlier made an emergency landing on a highway, as it collided with a car in which an old woman named Victoria and her seven-year-old granddaughter Effie were traveling, on their way home in California, USA, according to what was published. Russian agency "Sputnik".
Victoria said, in a video spread on social media, that she heard a strong collision, and thought that a truck had hit them, but she was later surprised that it was a plane.
Victoria tried to get her granddaughter Evie out of the car, which was filled with jet fuel and glass, but she was stuck until a woman helped her crawl through the car and get out, while emergency personnel wrapped her in a blanket after they stripped her of her contaminated clothes. The back seat of her car.