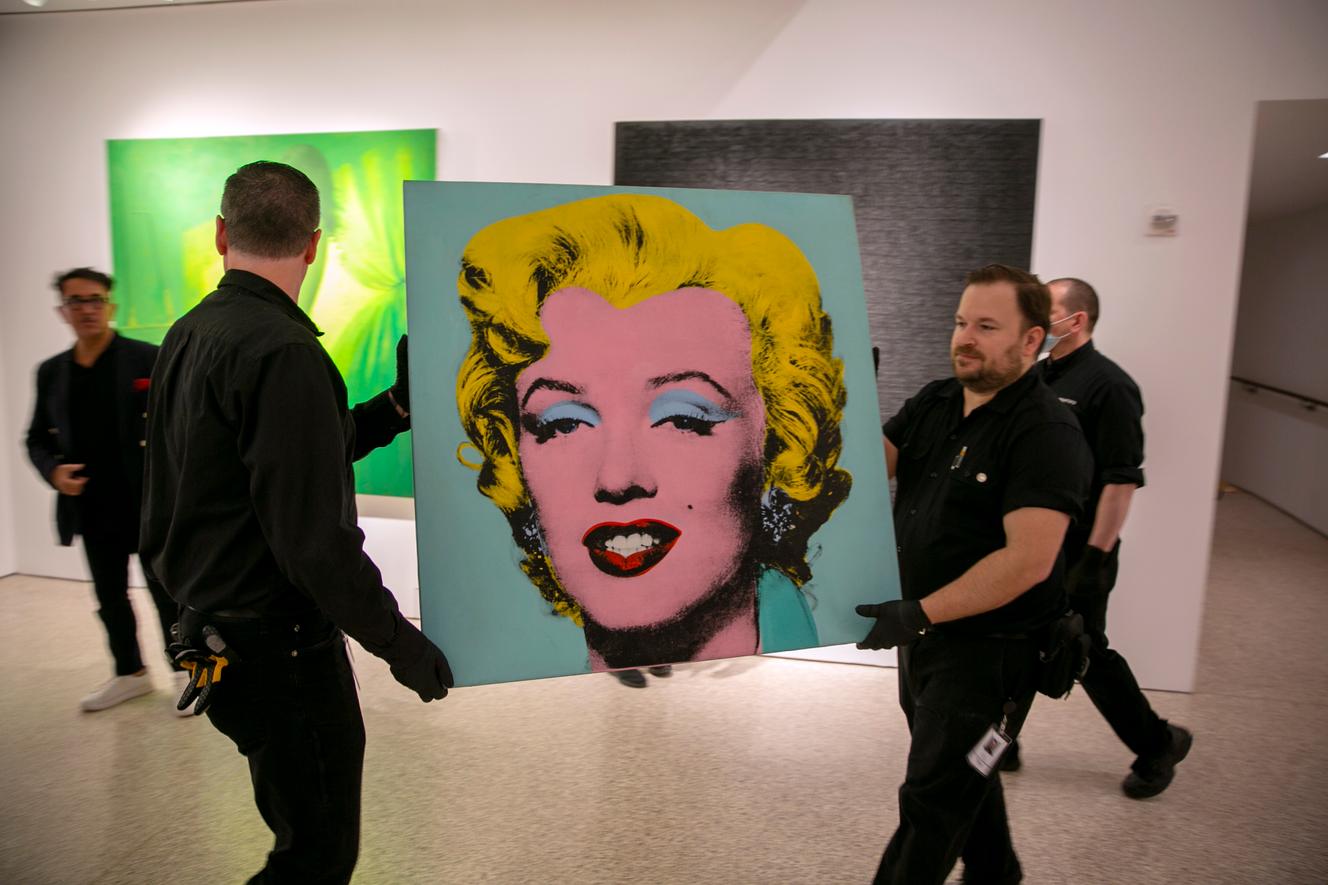 Leuschart d'art de Christie's Jussi Pylkkänen a centi "a certain tension in the room". Then, knocking with his hammer, at 8:36 p.m., after four minutes of bidding, he sold the work of art for 170 million dollars (161 million euros): the portrait of Marilyn Monroe by Andy Warhol (1928 -1987) Shot Sage Blue Marilyn thus became, Monday, May 9, in New York, the work of the XXe most expensive century ever sold at auction – the absolute record goes to Savior of the world, attributed to Leonardo da Vinci and purchased for $450 million in 2017 by Saudi Arabia's Crown Prince Mohammed Bin Salman.
Read also
Article reserved for our subscribers

"With the "Salvator Mundi", the value of the work would be due to the fact that Leonardo da Vinci touched it. Or not "
Shot Sage Blue Marilyn was the highlight of the collection of Swiss gallery owners Thomas Ammann, who died in 1993, and Doris Ammann, his sister, who died last year. The buyer is, according to the American press, the famous New York gallery owner of Armenian origin Larry Gagosian, of whom it is not known whether he was acting on his own behalf or on that of a client. The work had been estimated by the auction house Christie's 200 million dollars. With commissions, the total reached 195 million dollars (184 million euros), a historic figure, even if there was no exuberant surge.
Great day atmosphere
The context is appalling, with Wall Street in free fall, a very strong dollar, China in lockdown, inflation galloping across the planet and war in Ukraine. Nevertheless, Guillaume Cerutti, the general manager of Christie's, judged the art market "very resilient".
The auction room had found, Monday, the atmosphere of the big days, with some 180 participants to which were added about sixty professionals in telephone contact with their principals throughout the planet. Frenchman François Pinault, owner of Christie's, made the trip.
The success of the painting is due to its history and its multiplicity. This square, about one meter on a side, is based on a cropped photograph of the actress used for the promotion of the film Niagara (1953). Marilyn Monroe's eyelids are blue, skin tone pink, hair yellow, and background sage blue. The work is part of a group of five canvases, with different background colors: sage blue, red, orange, blue and turquoise. To do this, Andy Warhol had developed a printing technique that he used only for this purpose because it required a lot of work.
Read also:
Article reserved for our subscribers

"Andy Warhol", by Jean-Noël Liaut: portrait of a portrait painter
Above all, in 1964, an artist, Dorothy Podber went to Warhol's studios in Manhattan on the 47e Rue, and, noticing the portraits, she asked if she could "shoot" them. According to legend, the king of pop art nodded, understanding that she was asking permission to photograph the works. In reality, she took out a gun and shot at Marilyn's webs. Warhol fired the audacious one. "I've been mean all my life. Playing dirty tricks on people is my specialty", later said Dorothy Podber, who was the daughter of a Bronx mobster. Warhol repaired his works – one had been punctured, three dented, one intact. But as a connoisseur of the consumer society, he gave them all this title of Shot Marilyn, the sage blue version being rebranded Shot Sage Blue Marilyn.
You have 37.94% of this article left to read. The following is for subscribers only.