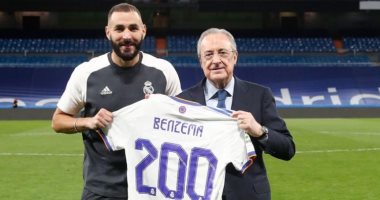 Real Madrid striker Karim Benzema received a special honor from Florentino Perez, the president of the Royal, after reaching the 200th goal in the La Liga competition, against Real Mallorca during the match that brought them together yesterday evening, Wednesday, and ended with a 6-1 victory by Al-Maringi, in the sixth round of La Liga.
La Liga
Karim Benzema scored a wonderful double against Mallorca, reaching the 200th goal in the Real Madrid shirt in the Spanish League.
The top scorer with Real Madrid in the Spanish League is Cristiano Ronaldo with 312 goals, Raul Gonzalez 228 goals, Di Stefano 216 goals, then Karim Benzema 200 goals.
La Liga news
Real Madrid president Florentino Perez gave Benzema a shirt bearing his 200th La Liga goal, and then took a souvenir photo with him, on the grounds of the "Santiago Bernabeu", after the Mallorca match.
For his part, Benzema commented, "This club is my whole life and I'm very proud of the goals. I hope to put more in. I try to play the football I love. I move on the field, help, score goals and help my teammates."
In response to his first goal with Real Madrid, Benzema commented, "Let's say the first, with the help of Van Nistelrooy here at the Bernabéu. I dedicate this to my family, my children, the Madrid fans and all the people who have always loved me."