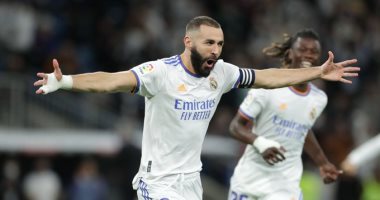 Real Madrid's French striker Karim Benzema is in a state of great brilliance at the beginning of the current season, by topping the list of top scorers in the Spanish League with 8 goals after 6 rounds of the competition, which made the royal team top the La Liga table with 16 points.
The strange coincidence in La Liga this season is that French star Benzema is equal in scoring with Barcelona with 8 goals, after 6 rounds have passed, with a game postponed for the Catalan team with Seville.
Barcelona is suffering during the current season in La Liga, which made it fall to seventh place in the competition's standings, after its goalless draw yesterday, Thursday, with the Cadiz team.
The 33-year-old French star contributed to the Meringue's top spot in the Spanish league, thanks to his eight goals, along with 7 assists for his teammates.
Benzema reached the 200th goal with Real Madrid in the Spanish League, after scoring a double in the royal team's wide victory over its guest, Real Mallorca, 6-1, last Wednesday night.
The Real Madrid star ranked tenth in the list of historical scorers in the Spanish League with 200 goals, while Argentine star Lionel Messi tops the list, with 474 goals.
Tomorrow, Saturday evening, Real Madrid will host Villarreal at the Santiago Bernabeu in the seventh round of La Liga.