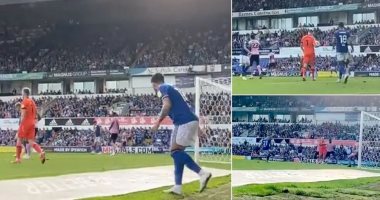 A strange and funny incident took place in the English Premier League stadiums, where the excitement reached its climax in the last minutes when the striker "stole" the ball from the goalkeeper to help his team score an exciting goal.
And the match between Sheffield Wednesday and Ipswich Town witnessed a strange event, in the framework of the ninth round of the English Premier League competitions for the second degree, as the result indicated that Sheffield Wednesday advanced with a goal free of charge, scored by Dennis Andrian in the 26th minute of the match.
The most exciting moment was in the last moments of the match when Sheffield Wednesday goalkeeper Bailey Farrell had no trouble catching a cross.
But Ipswich Town's Macaulay Boone managed to hide behind goalkeeper Bailey Farrell, and kept stalking him until he dropped the ball to the ground, to snatch it from him..
Macaulay Boone passed the ball to one of his teammates, who in turn passed it to Conor Chaplin, to score the equalizer for Ipswich Town in the 90+4 minute to give his team a valuable point instead of losing.
Sheffield Wednesday has 12 points from 8 matches and is 11th with 4 other teams, while Ipswich Town has 7 points in 21st place..