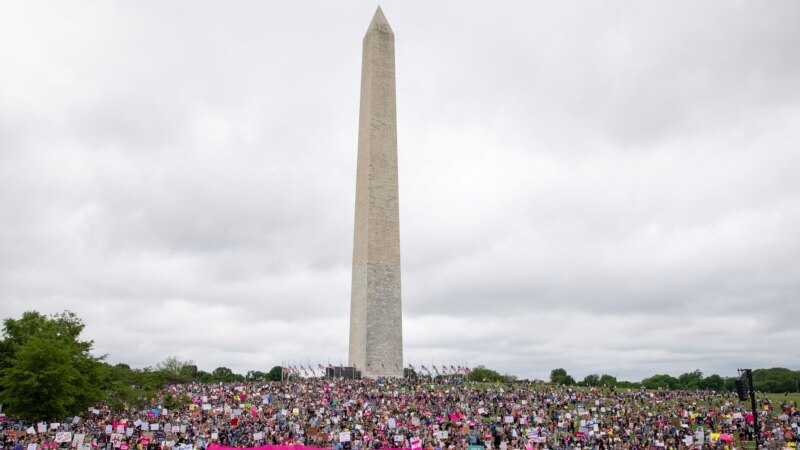 The slogan "My body, my choice" resounded on Saturday, in demonstrations in which activists pledged to fight for what they called reproductive freedom.
After a leaked draft opinion suggested that the conservative majority on the United States Supreme Court would vote to overturn the landmark Roe v. Wade, activists rallied to express their outrage and mobilize in the face of eventual enactments that would lead to stricter restrictions on abortion.
In the nation's capital, thousands of people gathered in a drizzling rain at the Washington Monument to hear fiery speeches before marching on the now heavily secured Supreme Court.
Anger and defiance prevail the state of mind of some
"I can't believe that at my age I still have to protest this," said Samantha Rivers, a 64-year-old federal government employee preparing as an activist for a state-by-state battle for abortion rights.
Caitlin Loehr, 34, of Washington said: "I think women should have the right to choose what to do with their bodies and their lives. And I don't think that banning abortion stops abortion. It just makes it unsafe and can cost a woman her life."
positions against
Half a dozen anti-abortion protesters sent a contrary message, with Jonathan Darnel, an anti-abortion activist, yelling into a microphone: "Abortion is not health care, folks, because pregnancy is not a disease."
From Pittsburgh to Pasadena, California, and from Nashville, Tennessee, to Lubbock, Texas, tens of thousands participated in the events. Organizers across the country expected hundreds of marches in places like Chicago, New York, Los Angeles and other big cities.
"If it's a fight they want, it's a fight they're going to get," Rachel Carmona, executive director of the Women's March, said before the rally.
Polls show that most Americans want to preserve access to abortion, at least in the early stages of pregnancy, but the Supreme Court seemed ready to let the states have the last word.
If that happens, about half of the states, mostly in the South and Midwest, are expected to quickly ban abortion.
The battle was personal for some protesters.
Teisha Kimmons, who traveled 80 miles to attend the Chicago rally, said she fears for women in states that are ready to ban abortion. She said that she might not be alive today if she had not had a legal abortion when she was 15 years old.
"I was already starting to self-harm and would have rather died than have a baby," said Kimmons, a massage therapist from Rockford, Illinois.
At that rally, speaker after speaker told the crowd that if abortion is banned, the rights of immigrants, minorities, and others will also be "gutted," as Amy Eshleman, wife of Chicago Mayor Lori, put it. Lightfoot.
"This has never been just about abortion. It's about control," Eshleman told the crowd of thousands. "My marriage is on the menu, and we cannot and will not allow that to happen," he added.
In New York, thousands of people gathered in the Brooklyn courthouse square ahead of a march across the Brooklyn Bridge into lower Manhattan, where another rally was planned.
"We're here for the women who can't be here, and for the girls who are too young to know what's in store for them," said Angela Hamlet, 60, of Manhattan.
Connect with the Voice of America! Subscribe to our channel YouTube and turn on notifications, or follow us on social networks: Facebook, Twitter e Instagram.