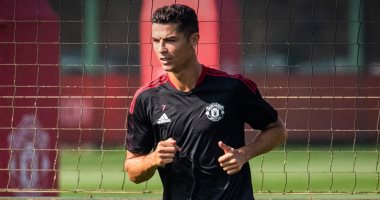 Manchester United coach Ole Gunnar Solskjaer is considering putting Cristiano Ronaldo in the team's starting lineup during the Newcastle United match, scheduled for Saturday at 4:00 pm, in the fourth round of the English Premier League.
And the English newspaper "Daily Express" reported that the possibility of Ronaldo appearing in the starting lineup is increasing dramatically, especially in light of the absences in the attacking center, as Uruguayan Edinson Cavani missed the training yesterday in mysterious circumstances.
And the newspaper pointed out, that Solskjaer may not actually have many options in attack with the absence of Marcus Rashford through injury while fans are sure that Cavani will not participate because he has not been seen in training.
However, it has not yet been confirmed whether Ronaldo will play in the match with Ole Gunnar Solskjaer, who is known for his preference to gradually involve new players.
For his part, Ronaldo said in an interview with Wes Brown on the Manchester United channel: "I am very happy, very happy to return to Manchester United, I never thought that I would come back again but I am very proud, I am very excited and looking forward to starting in the best way, I am happy My family is happy, my children are happy too, everyone is happy in Manchester."
"We have good memories at Manchester United, but this is a new time, a new generation and I'm here to win again," Don continued.
Ronaldo continued: "The new players and young players, I think they have great potential, I am here again to win and to make history with them."
On his age, Ronaldo continued: "Everyone always talks about age but they should know that I am different from the rest, I am good all the time from year to year and this year will be the same."
And about his beginnings with Manchester United in the first period, Ronaldo said: "I did not expect to start or even play in 2003, so I was very nervous, of course I will be nervous on Saturday but I am more mature and more experienced, and I will be ready and I will press Solskjaer to start (laughs)." .