The Italian club, AC Milan, announced today, Wednesday, that its goalkeeper Alessandro Blizzari underwent a successful orthopedic operation today..
The Italian club said in its statement on its official website that the 21-year-old goalkeeper could miss the Lombardy club for 3 months..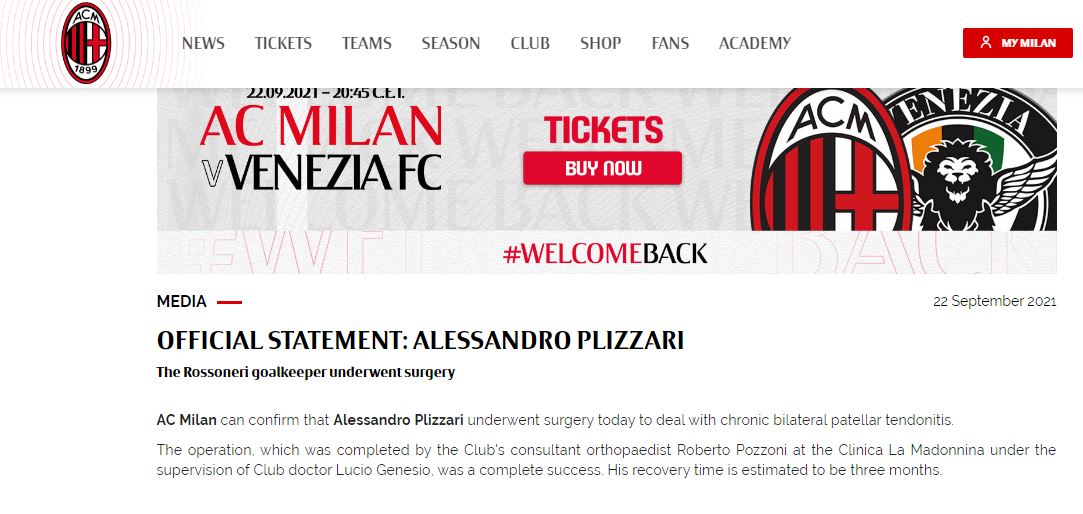 The young goalkeeper has a contract with Milan that runs until June 2023.
Blizzari is the third goalkeeper in Italian Stefano Pioli's squad this season, behind Frenchman Mike Mainan and Romanian Tatarusano..
The date of the match Milan vs Venezia
Milan hosts Venice this evening, Wednesday, in the fifth round of the Italian league competition, at the "San Siro" stadium.
The Milan vs Venezia match will be held at 9:15 pm today, Wednesday, on the . channel Lega Serie A YouTube, Sky Sport Calcio 1.
Milan vs Venezia
Milan occupies third place in the Italian league table, with 10 points, with a goal difference from Inter Milan, runner-up, while Napoli leads the standings with 12 points, and Venezia comes in 17th place with 3 points.