After a movie has been discontinued Poker Face world superstar Russell Crowe last month, after a crew member tested positive for Covid-1The 57-year-old actor was seen celebrating his release from mandatory home quarantine by riding a bike alongside his girlfriend Brittney Terriott, 30, reports the Daily Mail.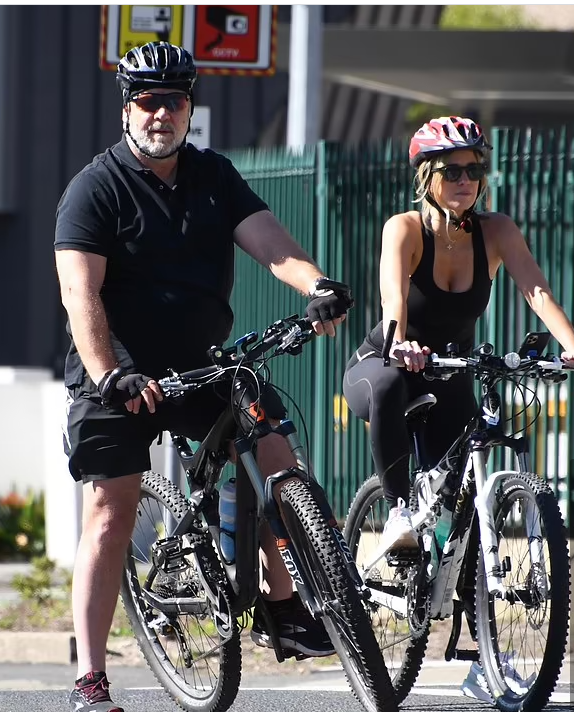 Russell Crowe and his girlfriend
A star appeared Gladiator He wears casual clothes during his picnic, wearing a black t-shirt and shorts in the same color.
Thriller production has been discontinued.Poker Face"Which is directed by and starring world actor Russell Crowe in Australia due to the infection of one of the workers in the new movie, with the Corona virus, and medical analyzes are currently being carried out to ensure the safety of everyone, according to the report published on the website"variety".
Crowe announced, "Unfortunately, 6 days before the end of filming PokerFaceWe have discovered a confirmed case of coronavirus infection among our staff, and another case that is not yet confirmed, and therefore analyzes are being carried out to control the matter."
Crowe continued his speech, saying, "For the safety of the actors, crew and society, filming was stopped immediately, and everyone was instructed to take the necessary measures, the first of which is home isolation, and we have followed strict protocols with the actors and crew 3 times a week for the past 11 weeks."
Filming of the thriller was due to end Poker Face, within 6 days, but the shooting of the rest of the action scenes was postponed, indefinitely, and the film was written by Stephen M. Coates, and Russell Crowe play Jake, a tech billionaire who gathers his childhood friends in his Miami home for a high stakes game of poker.
However, Jake finds himself rethinking his strategy when his Miami mansion is overrun by a dangerous householder whose previous jobs have all ended in murder and arson.