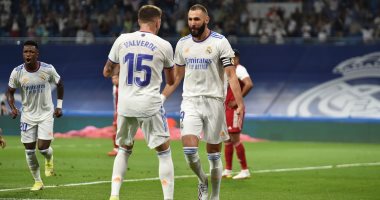 French star Karim Benzema scored 3 "hat-trick" goals for Real Madrid, in the exciting victory of the royal team against its guest, Celta Vigo, 5-2, during the meeting that brought the two teams together at the "Santiago Bernabeu", in the fourth round of the Spanish League competition for the current season. .
Real Madrid regained the top spot in the La Liga standings with 10 points, with a goal difference from Valencia and Atletico Madrid, who have the same balance of points.
And the "Opta" statistics network stated that, after scoring a hat-trick against Celta Vigo, Karim Benzema reached his 197th goal in the history of La Liga, to enter the list of the top 10 scorers in the history of the competition.
Benzema has surpassed the player's goals Spain's Edmundo Suarez, who was ranked tenth with 195 goals.
Here are the 10 most scored players in the history of the Spanish League:
1- Argentina's Lionel Messi – 474 goals
2- Portuguese Cristiano Ronaldo – 311 goals
3- Spain's Telmo Zarra – 251 goals
4- Mexico's Hugo Sanchez – 234 goals
5- Spain's Raul Gonzalez – 228 goals
6- Argentinian Alfredo Di Stefano – 227 goals
7- Spain's Cesar Rodriguez – 223 goals
8- Spain's Quini – 219 goals
9- Spaniard Bahino – 210 goals
10- Karim Benzema – 197 goals