Within the framework of the initiative of the Ministry of Health and Population for the early detection of diseases (anemia, obesity and dwarfism) among primary school students, which was launched at the beginning of the current school year and until today, we offer mothers the most important tips to help you protect your child from anemia and obesity.
In the beginning, we must first know what is anemia?
It is a condition in which the blood does not contain enough healthy red blood cells to carry the adequate amount of oxygen to the tissues of the body, meaning that there is a noticeable decrease in hemoglobin in the blood. Anemia has several types and occurs for more than one cause, and cases vary from simple to severe.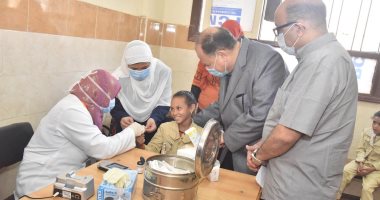 What are the symptoms that can appear on the child indicative of anemia?
Pale skin.
– Tired.
Cold hands and feet.
Slowing growth.
– Anorexia.
Abnormally rapid breathing.
Recurrent infection.
The following is a set of tips for mothers to deal with and prevent anemia:
It is important to give your child iron-rich foods and include them in the three basic meals to raise hemoglobin levels in the blood, such as nuts, dried fruits, legumes, seeds, poultry and fish (sardines, tuna).
It is important for your child to eat vegetables and fruits throughout the day, as they help promote the child's growth and build his immune system.
Keeping your child hydrated is very important, by drinking enough water and natural fluids from fruits.
Make sure to eat dairy products, especially at breakfast, it is important to eat a glass of milk, with the need to eat an egg or cheese, and it is also better to have a glass of milk at dinner or a glass of yogurt.
Avoid adding meat and processed foods to your child's meals, because they cause them to suffer from many diseases, and you can replace them with foods rich in good protein such as eggs and cheese beans..