Barcelona striker Sergio Aguero has revealed, for the first time, the secret of his refusal to receive the historic shirt of the Catalan club.
Aguero announced his refusal to wear the No. 10 shirt, to succeed his legendary compatriot Lionel Messi, who left Barca in the summer of 2021, and joined Paris Saint-Germain in a free transfer deal..
Barcelona announced that the Messi shirt will be given to the young player Ansu Fati in the current season 2021-2022.
Aguero said during a live broadcast on the website Twitch The Spanish newspaper "AS" highlighted him, "They offered me the Messi shirt, but I refused it out of respect for him".
After Aguero's decision, the player settled on the number 19, but he has not appeared in any match with Barca so far at all levels, due to his suffering from a right calf injury..
Aguero is expected to make his first appearance with the Catalan team, early November.
Barcelona decided, earlier, to give the talented Ansu Fati the number 10 shirt that Argentine star Lionel Messi wore before his move to Paris Saint-Germain, during the summer transfer season, after the end of his contract with the Catalan club.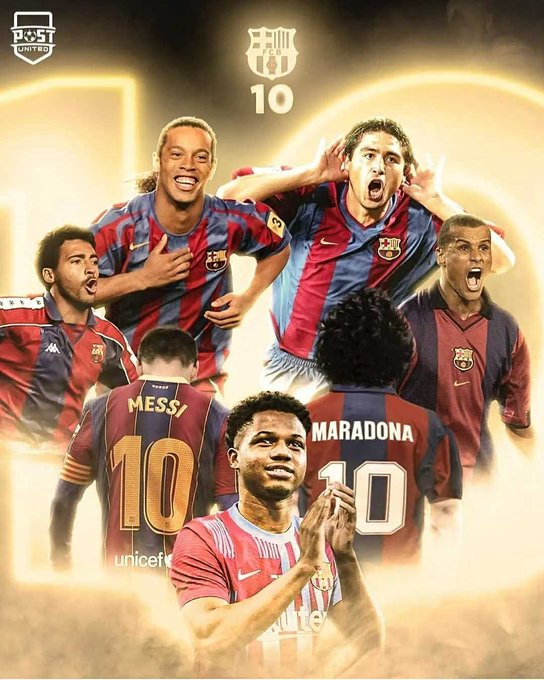 Lionel Messi and Maradona are the most prominent legends who wore the number 10 in Barcelona throughout its history.
And Ansu Fati continued the legacy of the number ten in Barcelona with Ansu Fati and in the footsteps of football legends : Who preceded him, as he joined the greatest players in the history of the Catalan club.
Fati No. 10 inherited the legacy of the ten legends who preceded him: Argentine Lionel Messi, Brazilian Ronaldinho, Argentine Juan Roman Riquelme, Brazilian Rivaldo, Brazilian Giovanni, Chilean Hagi, Brazilian Romario, Bulgarian Stoichkov, Englishman Gary Lineker, Argentine Diego Maradona.