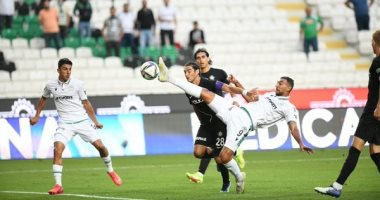 The technical staff of the Turkish professional club Konyaspor within its ranks, Ahmed Hassan Koca, announced the official formation of his team's match against Alanyaspor in the eighth round of the Turkish Premier League competition.
Ahmed Koca was in the starting lineup of his team after the Egyptian striker Ahmed Hassan Koca scored his team's first goal in Konyaspor's 1-0 goal against Kassem Pasha, during the match that brought the team together in the seventh round of the Turkish League.
Konyaspor occupies sixth place in the Turkish league table with 13 points, while it is in eighth place with 13 points.
📝 A. Alanyaspor karşısındaki ilk 11'imiz!#AnadolununHükümdarı pic.twitter.com/lbZM6PMhtV

— İttifak Holding Konyaspor (@konyaspor) October 2, 2021