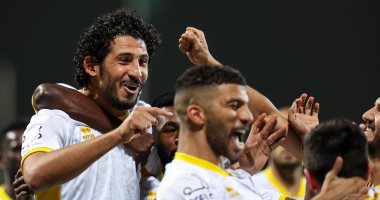 Al-Ittihad team, which includes Egyptian international defender Ahmed Hegazy, will host its Abha team, at 7:30 pm, today, Saturday, at the "Radiant Jewel" stadium in Jeddah, as part of the confrontations of the fourth round of the Prince Mohammed bin Salman Cup League "Saudi League" Professionals" for the current season 2021-2022.
Al-Ittihad team occupies fourth place in the Saudi League table with 6 points, one point behind the leaders Al-Fayhaa and Al-Hilal teams, while Abha team comes in eighth place with 8 points.
Al-Ittihad team seeks to win today's match to continue the cycle of victories, and also to grab the top spot in the standings, even if temporarily, pending the results of Al-Fayhaa and Al-Hilal teams in this round.
Ahmed Hegazy won the award for the best player in the world Saudi League competitions for August For the current season 2021-2022, after his remarkable brilliance with the dean, he is expected to receive the award before the start of today's match.
And the official page of the Saudi League published on the social networking site "Twitter", that Ahmed Hegazy received the award, after he ably led the defenses of the Federation during the first three rounds of the competition..
Ahmed Hegazy, despite being a defender, also managed to score two goals for Al-Ittihad in 3 matches, against Al-Raed and Al-Faisaly teams in the second and third rounds, to occupy the top scorer behind the duo Eid Al-Razzaq Hamdallah, Al-Nasr striker, and Cameroonian Tawamba, the star of Al-Taawoun.