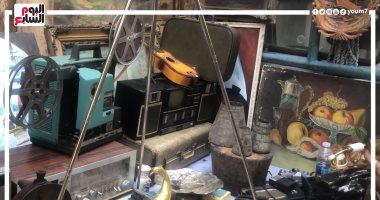 From the Saturday market in the center of the country to the Attarin market in Alexandria to the various markets in the governorates and regions, "Ahmed Zein" journeys do not end in various parts of El-Mahrousa in search of everything rare and ancient that satisfies his passion for the world of antiques and his fondness for ancient heritage.
"He who has no past has neither a present nor a future," a phrase that the 45-year-old believes in, which is what prompted him to leave his traditional work to follow his passion for antiques. He told "The Seventh Day": "Antique is an art that includes everything that has become rare or at least is no longer manufactured. or currently produced, such as classic cars, radios, lamps, disc telephones, kerosene heaters, as well as some typewriters, in addition to canceled coins, postage stamps, antique clocks and alarm clocks, even antique gold and silver, as well as antique paper advertisements and Advertising materials and more.
"I love antique and everything that is old from my youth," thus Zain explained the reason for calling him "Antique Lover" by his friends, and added, "As a young child, I used to stand in front of old buildings and paintings and contemplate them and was fascinated by them, and the beginning of my realization was my admiration for the old buildings that the downtown area was famous for. In Cairo, the French Quarter, and also in Port Said, where I have lived for years, where the buildings are old-fashioned, which shows attention to the smallest details.
Zain continued: "Collecting antiques makes me wander and travel everywhere, because collecting antiques requires multiple sources of purchase, and searching for it in many places, such as the antiques markets, the most famous of which is Diana's Market, which is held every Saturday in the vicinity of downtown, and the Attarin market in Alexandria, There are markets in the governorates and regions, in addition to specialized shops and robabicia sellers.
With an expert eye, Zain can distinguish between original antique and imitation, and said, "There is a sense similar to the sixth sense, through which an amateur can distinguish between original antique and imitation from just a look, feel, or even smell."