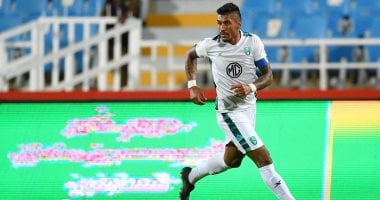 Al-Ahly Club of Saudi Arabia announced today, Saturday, the termination of the contract of Brazilian midfielder Paulinho by mutual consent, just two months after signing him in a free transfer deal, following the end of his contract with his former team, Guangzhou, China.
Al-Ahly's Saudi statement said: "This decision came due to the emergency circumstances that he spoke with the club's management recently, which was reflected in his performance on the field technically and mentally during the past rounds, expressing his inability to provide the desired addition to the team."
The 33-year-old Brazilian player played 4 matches with Al-Ahly team in the Saudi League, during which he scored two goals.
And the Saudi Al-Ahly club had announced its official contract with the Brazilian Paulinho, the former Barcelona midfielder, during the month of July, in a free deal, after terminating his contract with the Chinese club Juanes Evergrande, for the next 3 seasons..
The 33-year-old Paulinho played for many clubs, most notably Barcelona and Tottenham Hotspur, and has won 15 titles in his career, including 8 with China's Guangzhou, 3 with Brazilian Corinthians, and two titles with Barcelona.
Paulinho played 56 matches with the Brazil national team, scored 13 goals, and participated in the 2014 and 2018 World Cups, and also participated in the 2013 Confederations Cup, during which the Seleção team won the title.
Al-Ahly continued the series of draws in the Saudi Professional League, after its guest Al-Fateh imposed a 1-1 draw on it, in the match that brought the two teams together, yesterday evening, Friday, at the "Radiant Jewel" stadium, as part of the confrontations of the fifth round of the Prince Muhammad bin Cup League. Salman.
Al-Ahly became the first team in the history of the start of the Saudi Professional League to draw in 5 consecutive matches, as the team did not achieve any victory or loss during the first five rounds of the competition.