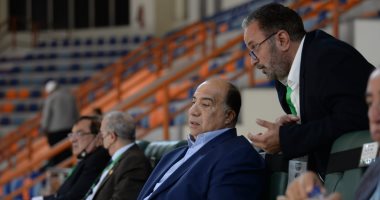 The Arab Basketball Federation, headed by Ismail Gergawi, announced the holding of a huge party for the delegations participating in the Arab Club Championship, which will be hosted by Al-Ittihad Club of Alexandria from September 29 to October 9 in the club's hall and the covered hall in Burj Al Arab Stadium.
Al-Ahly and Al-Ittihad clubs from Egypt, Sharjah and Al-Bataeh from the Emirates, Kuwait and Yarmouk from Kuwait, Al-Mina and Shaab Hadramawt from Yemen, Al-Gharafa and Al-Wakrah from Qatar, Al-Zahra Al-Riyadi from Tunisia, Al-Zahra Al-Riyadi from Tunisia, Bahraini Manama, Beirut Lebanon, and Al-Fateh Saudi will participate in the tournament. Union of Moroccan Conquest, Wedad Boufarik and the family of Sari, the city of Blida from Algeria.
The official page of the Arab Federation on Twitter published a statement stating that the President of the Arab Federation invited the President of the Egyptian Basketball Federation, the President of the Alexandrian Federation Club and the President of Al-Ahly Club to attend the celebration organized by the Federation at the end of the tournament, with the assignment of Abdullah Shalaby, Executive Director and Awad Sami, Director of Public Relations The Arab Union to end all arrangements for the celebration.
The Arab Federation indicated that the Egyptian Minister of Youth and Sports will be invited to attend the celebration that will be held in the city of Alexandria.
Today, Friday, the Al-Ittihad club of Alexandria's basketball team will meet with the Arab conquest in the second round of the Arab championship competitions, and Al-Ahly club will face its counterpart Wedad Boufarik on Sunday at seven in the evening, while the Hadhramaut team will face its Saudi counterpart Al-Fateh at one o'clock.