The French coach, Herve Renard, the coach of the first Saudi national team, announced the list of the green team to face Japan and China, in the qualifiers for the 2022 World Cup, which witnessed the absence of Muhammad Al-Buraik, Salem Al-Dosari, Abdullah Al-Hamdan.
The list included 25 players:
Guards: Muhammad Al-Owais – Zaid Al-Bawardi – Fawaz Al-Qarni – Muhammad Al-Yami.
Defense: Muhammad Khabrani – Abdullah Mado – Abdulelah Al-Omari – Ali Al-Bilahi – Saud Abdul Hamid – Hussein Qassem – Sultan Al-Ghannam – Yasser Al-Shahrani.
Middle: Nasser Al-Dosari – Ali Al-Hassan – Abdul-Ilah Al-Maliki – Muhammad Kanoo – Sami Al-Najai – Salman Al-Faraj – Muhammad Al-Kwekibi – Fahd Al-Mawlid – Abdul Rahman Gharib – Abdul Rahman Al-Aboud – Ayman Yahya.
Attack: Firas Al-Braikan – Saleh Al-Shehri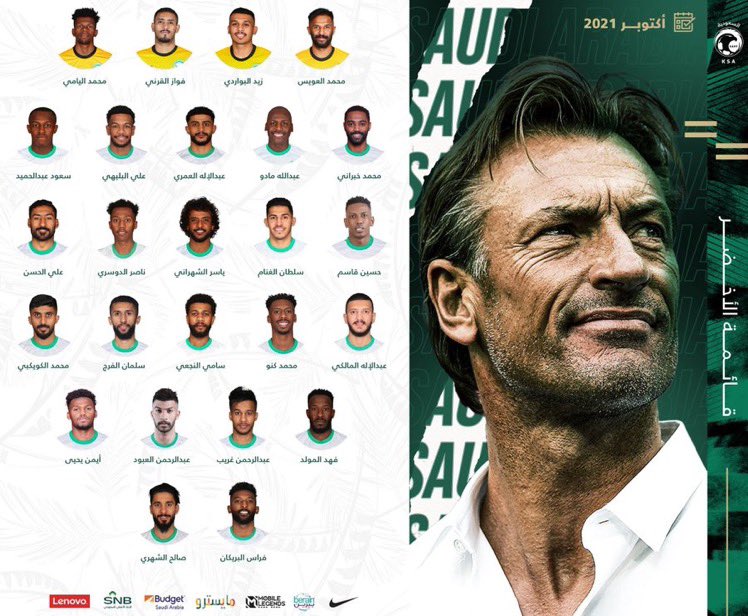 The Saudi team will meet its Japanese counterpart on October 7 in Jeddah, and then meet the Chinese team on the 12th of the same month.
The Saudi national team occupies the top spot in Group B, equally with Australia, with a full score for each of them, with 6 points.