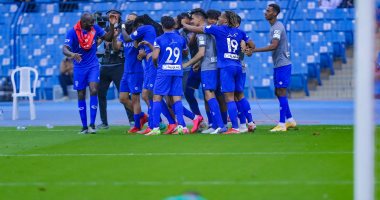 Al-Hilal Club seeks to snatch the top spot in the Saudi League today, Tuesday, when it is a heavy guest against its Al-Fayhaa counterpart, which was postponed from the fourth round of the Saudi League, Prince Mohammed bin Salman Professional Cup League.
Al Majmaah Sports City Stadium will host Al Hilal and Al Fayhaa matches, which will be held at 5:25 pm today, Cairo time.
Al Hilal occupies second place in the Saudi standings table with 11 points, equal with two teams with the same balance..
The defending champion seeks to reap the full points, which makes him take the lead in the standings instead of the first league with 13 points, so he will try as hard as possible to achieve this..
While Al-Fayhaa occupies fifth place in the standings table with 10 points, with a distinguished presence as it is a recent rookie for professionals, and seeks to focus and win the meeting and continue on the right path towards the golden square.
Al-Hilal club achieved the second lowest start in the history of its participation in the Saudi Professional League, after collecting 11 points from 5 matches during the current season since the 2008-2009 season..
Al Hilal won the Saudi League title 5 times when it scored 13 points during the first 5 rounds and won the title only once after gaining 12 points.
In another confrontation, Prince Abdulaziz bin Musaed bin Jalawi Stadium will host an important match between Al-Taei and Al-Nasr, in the postponed match between them from the fourth round of the Saudi League..
Prince Abdulaziz bin Musaed bin Jalawi Stadium will host the confrontation, which will start at 20:25 pm Saudi time, 7:25 Cairo time.
Al-Nasr won its last match against Al-Batin with a goal without a response, reaching the ninth point, and it will try to continue victories to get closer to the top..
While Al-Tai is going through a bad season so far, after playing five games, he only got four points, and he will be able to come out with a positive result against the world that helps him improve his current situation..