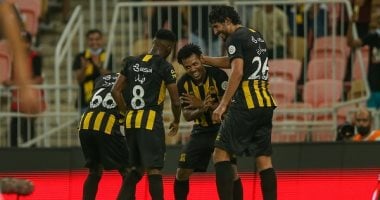 The Jeddah Professional Union, within its ranks, the Egyptian defender Ahmed Hegazy, swept its guest, Abha team, 6-1, in the meeting that brought the two teams together on Saturday evening, on the The "Radiant Jewel" stadium in Jeddah, as part of the matches of the fourth round of the Prince Mohammed bin Salman Cup "Saudi Professional League" for the current season 2021-2022.
Ahmed Hegazy participated with Al-Ittihad in the entire match, and appeared at a distinguished level throughout the meeting.
Al-Ittihad ended the first half of the match with a 3-1 advantage, the Tigers team scored Igor Coronado, Romarinho and Hamdan Al-Shamrani in the 21st, 40th and 44th minutes of the match, while the Tunisian Saad Bakir scored the Abha goal in the 42nd minute.
In the second half, Al-Ameed team added 3 more goals through Romarinho, Fahd Al-Mawlid and Harun Kamara in the 80th and 89th minutes and the second minute of stoppage time for the match.
Al-Ittihad topped the Saudi League standings with 9 points, while Abha's balance stopped at 4 points in the eleventh place.
The fourth round matches will be completed tomorrow, Sunday, with 4 matches, most notably the two confrontations of cooperation with Al-Ahly and Al-Shabab hosting Al-Hazm.