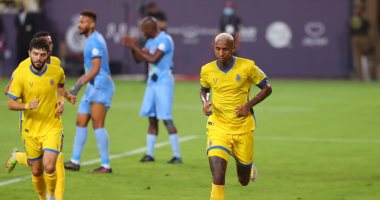 The Saudi Al-Nasr team achieved a difficult victory at the expense of its sub-match, with a goal without a response, in the match that brought the two teams together this evening, Thursday, in the sixth round of the Prince Mohammed bin Salman Saudi Professional Cup..
Taliska scored the first goal for Al Nasr in the 34th minute of the first half and the match.
The victory raised Al-Alame's balance to the ninth point in fifth place, while Al-Batin froze at five points in the 13th place in the table.
The team's first goal #victory It was scored by Talisca in the 34th minute#victory 1 – 0 #albatin#She_Lana_Dar 🇸🇦#Al-Nasr Al-Batin#SSC_channels pic.twitter.com/4xsvn1XEfR

— Saudi Sports Company SSC (@ssc_sports) September 23, 2021
In another match, Al-Ahly continued to bleed points, by defeating Al-Fayha, by a clean two, at Al-Majmaa City Stadium, in the context of the sixth round as well..
In the second half, Al-Fayhaa reached Al-Raki's goal, scoring the first goal, through a superb shot from outside the penalty area, shot by Ramon Lopez to the left of Muhammad Al-Owais; Al-Ahly goalkeeper.
The 68th minute of the match witnessed a second wonderful goal for Al-Fayhaa, also by Ramon Lopez, as he executed a fixed ball from the middle of the field, in a more than wonderful way, that dwelt in Al Owais' net.
The defeat froze Al-Raqi's balance at the fifth point in the 12th place, while Al-Fayhaa's balance rose to the tenth point in the runner-up temporarily.
The team's first goal #fayhaa By Ramon Lopez at the 60th minute.#fayhaa 1 – 0 #soccer#Al-Fayha_Al-Ahly#SSC_channels pic.twitter.com/YJ3HGugGX4

— Saudi Sports Company SSC (@ssc_sports) September 23, 2021