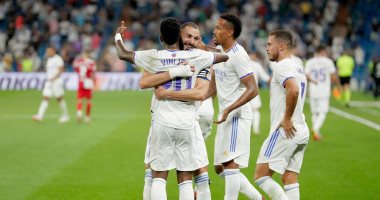 Today, Monday, Real Madrid began its preparations without rest, a day after its great victory over its guest Celta Vigo (5-2) in the fourth round of La Liga, for the Inter Milan match expected next Wednesday at the start of the team's campaign in the Champions League.
The training, which was held in the sports city of Valdebebas, witnessed the continuation of the Austrian international David Alaba for individual training to recover from his muscle injury.
Although French full-back Ferland Mendy has recovered from a shin injury that has deprived the team of his efforts since the beginning of the season, he missed the group training, and only performed rehabilitation exercises in the gym alongside the injured German duo Toni Kroos and Dani Ceballos.
Welsh winger Gareth Bale was also absent from training today for an MRI to determine the extent of the muscle injury that prevented him from participating in the Celta match, after returning from the international break and participating in 3 matches in the 2022 World Cup qualifiers in Qatar.
After the great local victory by five on the night of the return of (Santiago Bernabeu) after 560 days of closure, the veteran Italian Carlo Ancelotti began preparing with greater focus to face the "Nerazzuri" in the "Champions League".
Ancelotti focused his attention on the development of Alaba's condition, and is expected to include him in the final list for the match that will be hosted by the San Siro stadium in Milan.
It is scheduled to play the first and last training session on the stadium of the match on Tuesday evening.