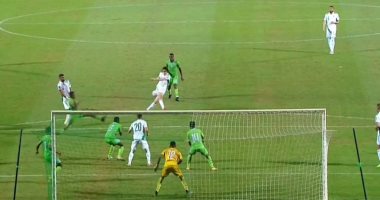 The Algerian national team defeated its guest, Djibouti, by eight goals, in the match between the two teams, Thursday evening, at the "Mustafa Tchaker" stadium in the municipality, as part of the first round matches of the first group of African qualifiers for the 2022 World Cup.
The goals of the Algerian national team were scored by Islam Slimani 4 goals (Super hat-trick) in the 5th and 25th minutes from a penalty kick, 46 and 53, Ramy Bensabini in the 27th minute, Baghdad Bounedjah in the 40th minute from another penalty kick, Riyad Mahrez in the 67th minute and Ramez Razouki in the 69th minute .
Islam Slimani reached his 36th international goal, equaling Abdelhafid Tasfaout's number as the most scored player with the Algerian national team. The Djibouti national team completed the match with 10 players, starting from the 23rd minute, after its defender Youssef Patio Mohamed was sent off.
Earlier in the day, Yorka Faso defeated Niger with two goals without a match in the same group.
Algeria will visit Burkina Faso next Tuesday, while Djibouti will host Niger.
With this victory, the Algerian team continued its record as the most African team to achieve a series of unbeaten matches in the history of football, with 28 matches in a row.
The Algerian national team succeeded in breaking the previous record recorded in the name of Côte d'Ivoire by maintaining its record unbeaten in 26 consecutive matches, from 2011 to 2013.
Algeria national team
Goalkeeper: M'Bolhi
Defence: Mehdi Zafani – Issa Mandi – Jamal Belamri – Ramy Bensabini
Midfield: Zrougui – Ismail bin Nasser – Riyad Mahrez
Forwards: Youssef Blaili – Baghdad Bounedjah – Islam Soleimani
The second round of the African World Cup qualifiers (group stage) consists of 10 groups, in each group 4 teams face each other back and forth, and the first place qualifies for the third and final round.
The third round is a knockout round, like the first round, where each of the ten teams faces their opponent back and forth, and the winner qualifies for the 2022 World Cup.