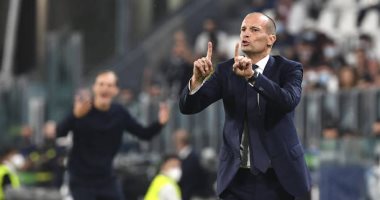 Juventus coach Massimiliano Allegri spoke about his team's difficult victory over its guest, Chelsea, 1-0, during the match that brought the two teams together this evening, Wednesday, at the Allianz Stadium, in the second round of Group H of the group stage in the League competition. European Champions for the current season 2021-2022.
"Usually when sailors are in stormy seas, they can always find a way out," Allegri said during the post-match remarks.
He added: "We can play better than this from a purely technical point of view, but frankly we did not allow many real and clear chances and wasted some dangerous counter-attacks as well. After two games, I scored six points and zero goals, this is a good step towards qualifying for the last 16."
He continued: "I thought we could get an advantage by playing with three up front, then I moved Chiesa to the center of the attack with Bernardeschi behind and things went better, and there were also improvements in the middle of the garden, where Manuel Locatelli and Rodrigo Bentancur started to get to know each other ".
He continued: "Juventus must know how to win matches like this, when you have to suffer and fight for the result, that's what the boys did tonight." And he concluded: "With all due respect to the European champions, Chesney did not have a real test."
With this result, Juventus leads the group standings with 6 points from two victories, while Chelsea is second with 3 points.