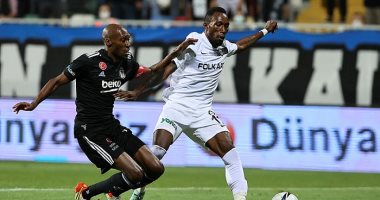 The Altay professional team, in its ranks, the Egyptian striker Ahmed Yasser Rayan, achieved a precious victory over its guest, the defending champion Besiktas, by a score of 1-2, in the meeting that brought the two teams together on Friday evening, in the opening matches of the seventh round of the Turkish League for the current season 2021-2022.
Ahmed Yasser Rayan was absent from the Altay team list for the third match in a row, due to injury.
The goals of the match came in the second half, Besiktas made the first goal in the 47th minute through Goven Yalcin.
Leandro Capel scored the equalizer for Altay in the 57th minute, before Dauda Bamba snatched the winning goal for the hosts in the 88th minute of the match.
Altay moved to the top of the Turkish league table temporarily with 15 points, while Besiktas' balance stopped at 14 points in second place.
Ahmed Yasser Rayan was in the list of our national team led by Carlos Queiroz, who took over the leadership of the Pharaohs team, succeeding Hossam El-Badry, to play the two matches against Libya, next October, in the African qualifiers for the 2022 World Cup in Qatar.
Ahmed Yasser Rayan commented about his presence in the national team's list, saying: "It is a great honor to join the national team, and I hope I can help my country to qualify for the World Cup."
And Ahmed Yasser Rayan continued, in television statements to the "Al-Thala audience" program, on Ontime Sports 2, with the journalist Ibrahim Fayek, that he is happy with this experience, and asked Al-Ahly club to go out on loan, in order to search for the dream of professionalism, and I seek to honor Egypt and my team during the coming period.