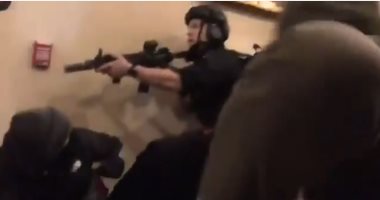 Al-Arabiya TV, in its breaking news a while ago, quoted American media outlets confirming the death of a woman who was injured in the Congress building from her wounds.
Earlier, demonstrators who supported the US President, Donald Trump, stormed the courtyards of Congress where the Biden victory was ratified..
And renewed clashes in the vicinity of the Congress building between the police and a number of protesters who are Trump supporters. A number of Trump supporters stormed the police barricades around the Congress building.
US President Donald Trump said he does not believe that the Georgia foreign minister is a Republican, mocking that he likes to record the calls, referring to the leaked call that revealed his pressure on officials to overturn the election result..
Describing him as fraudulent and corrupt, he said whoever heard the call loved it because it revealed the truth about the obstruction of the elections.
Biden won the elections with a majority of 306 votes against 232 in the electoral college for each state separately, and with a margin of more than seven million ballot papers in the nationwide popular vote. But the Republican president still claims falsely that there is widespread fraud and that he is the winner.
State and union reviews refute Trump's allegations of massive election fraud even as increasingly desperate legal efforts on the part of his campaign and his allies over the right to cancel elections in various courts all the way to the U.S. Supreme Court have failed..
Biden is scheduled to assume the presidency on January 20.