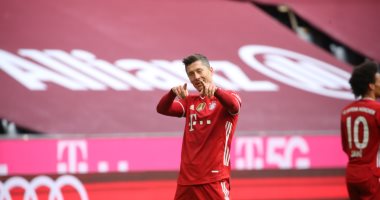 Today, Sunday, press reports revealed that there is a conflict between 5 players for the title of top scorer in 2021 in the absence of the Egyptian international, Mohamed Salah, the Liverpool striker.
The list also did not witness any Arab presence, especially from the brilliant Egyptian star Mohamed Salah among the ranks of Liverpool, but he has an opportunity to increase his scoring yield until the end of the year..
Bayern Munich striker Robert Lewandowski is on a steady pace towards winning the title of top scorer in 2021.
And the Spanish newspaper "Marca" published a list of 5 players who scored the most goals in various tournaments this year.
Leva topped the list with 45 goals, and it seems the closest to winning the title about 3 months before the end of the year, for the distinguished levels it presents with his team and country, with international matches remaining in the European qualifiers for the 2022 World Cup..
The Norwegian striker Erling Halland, the striker of the German team, Borussia Dortmund, is in second place with 38 goals, surpassing the Argentine legend Lionel Messi, the French player of Paris Saint-Germain, with 36 goals.
While French striker Kylian Mbappe of Paris Saint-Germain comes fourth in the list with 33 goals, surpassing his Portuguese idol, Cristiano Ronaldo, Manchester United star 31 goals.